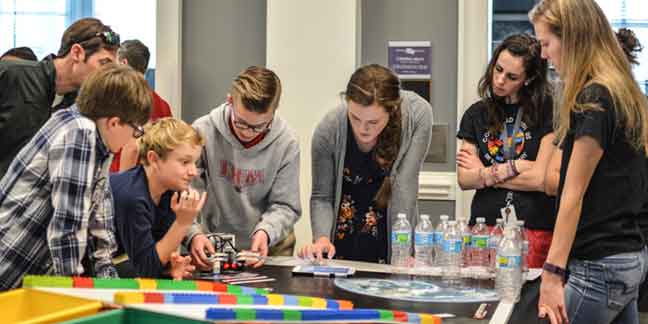 HIGH POINT — Immaculate Heart of Mary middle school students were recently challenged to design, build, program and operate robots, as part of a partnership between and the School of Education at High Point University.
The students participated in a head-to-head competition against other schools from January through April called the High Point University Middle School Robotics Challenge. IHM School was one of four area schools invited to participate. Each school was represented by two teams made up of sixth-, seventh- and eighth-grade students.
Guided by their teacher Rachel Forrester and IHM parent Jonathan Connor, the students built and programmed EV3 robotics after school based on broad instructions given by High Point University. Students learned not only how to build in a creative, problem-solving manner, but also how to work with the interface of a student-friendly programming software.
Once a month, the teams took their robots to High Point University, where they competed in a variety of matches with other local schools. Upon arrival, students were given specific tasks for their robot to perform with a very limited amount of time to program and perform each task as accurately as possible. At each competition, the teams received cumulative scores based on the performance of their robot. Some of the challenges the IHM students faced included playing putt-putt, catching a dog, racing through a maze, and moving water bottles into a recycling bin.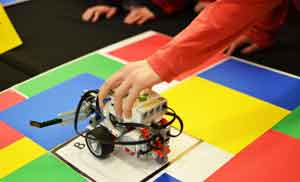 IHM had two robotics teams – Team A with Calvin Biesecker, Spencer Millard, Nick Koch, Alexandra Castro and Collin Greene, and Team B with Adison Connor, Joey Schumacher, Mikayla Ebel, Logan Millard and Ethan Maxwell – which placed first and third, respectively, in the competition. IHM's combined score for its two teams was the highest cumulative score out of all the schools that competed.
Each student won a prize from Lego for first place, as well as an EV3 robotics kit for use in the STEM program at the school.
This program provided students a chance to develop STEM (Science, Technology, Engineering and Math) skills and practice engi-neering principles while realizing the value of teamwork, perseverance, communication, collaboration, project management and criti-cal thinking.
— Carrie Vest, Special to the Catholic News Herald