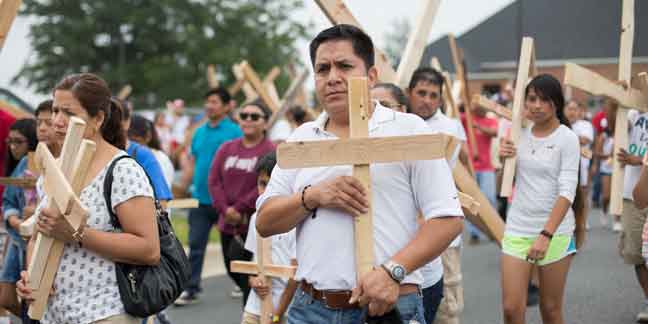 FOREST CITY — Parishioners at Immaculate Conception Church, along with many other Christians in the local community, came together Aug. 13 for "Cross-a-Thon," a fundraiser and Christian public witness held each year in Forest City.
The fourth-annual event drew 400 people representing about 10 different churches in the diocese, who processed solemnly from the church through downtown Forest City carrying wooden crosses of all sizes.
"We do this with the Eucharist in procession with us, so we are literally picking up our crosses to follow Christ, who is truly present with us in the Eucharist," said parishioner Michael Daigle.
The procession concluded with Eucharistic Adoration. This year's event is expected to raise more than $6,000 for the parish's Regnum Dei retreat center, which is being built by hundreds of volunteers and also being used by Emmaus Retreat participants. Previous Cross-a-Thons have raised money for a mission in Honduras, MiraVia at Belmont Abbey College and Christian refugees fleeing Syria.
Said Father Herbert Burke, pastor, "I believe multiple layers of blessings and graces have come from hundreds of disciples of Christ following our Eucharistic Lord down Main Street. They carried wooden crosses which symbolize the internal cross we all carry in doing God's will in a world that rejects it. I believe it was a powerful witness to the faith of the people and to the cross – a symbol of the love between God and man."
— Photos by Lorenzo Pedro, Catholic News Herald