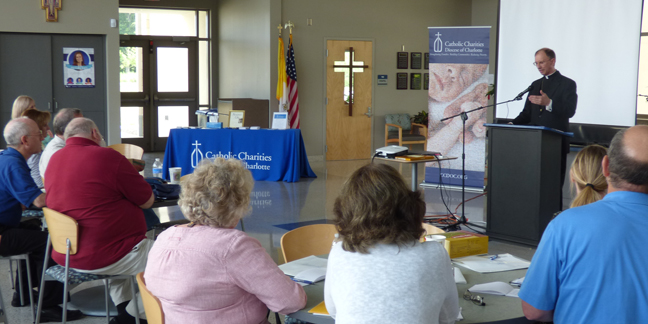 HUNTERSVILLE — The Diocese of Charlotte held its first formal Respect Life conference Aug. 28 at Christ the King High School in Huntersville. The event, open to all parish Respect Life coordinators and pro-life activists, drew close to 30 participants representing approximately 15 Charlotte area parishes and Knights of Columbus councils.
The event began with Mass, which was offered by Jesuit Father Joseph Koterski, associate professor of philosophy at Fordham University in New York, and the conference's keynote speaker. During his keynote address, Father Koterski reviewed the social teachings of the Church and the philosophical foundations for the right to life.
The conference also featured addresses from Be Not Afraid ministry, which supports parents experiencing a poor prenatal diagnosis; and a powerful testimony from Jackie Childers with Rachel's Vineyard, a post-abortion healing ministry. The event concluded with an address by Bishop Peter Jugis, who encouraged pro-life leaders to persevere and to continue their work through prayer and fasting.
The conference was well received by Respect Life coordinators.
Andy Zorichak, Respect Life coordinator at St. Ann Church in Charlotte, said, "It was very informative and I was especially moved by the Be Not Afraid ministry presentation."
Tammy Harris, St. Gabriel Church's Respect Life coordinator, also found it inspiring. "The conference allowed me to make so many connections within the Respect Life community. It helped me to create deeper bonds within this ministry," she said.
The conference, organized by Catholic Charities Diocese of Charlotte, was the fruit of a new collaboration between the diocese and C-PLAN (Catholic Pro-Life Action Network of Charlotte), a coalition of Charlotte-area parish Respect Life coordinators that organizes city-wide Catholic Respect Life efforts. Catholic Charities plans to hold the conference annually and rotate it among the three regions of the diocese (Asheville, Charlotte and the Triad).
To learn more about Catholic Charities' Respect Life pro-gram, go online to www.ccdoc.org/services/social-concerns-advocacy/respect-life. To find out about C-PLAN, go to www.prolifecharlotte.org
— Mike FitzGerald, Correspondent