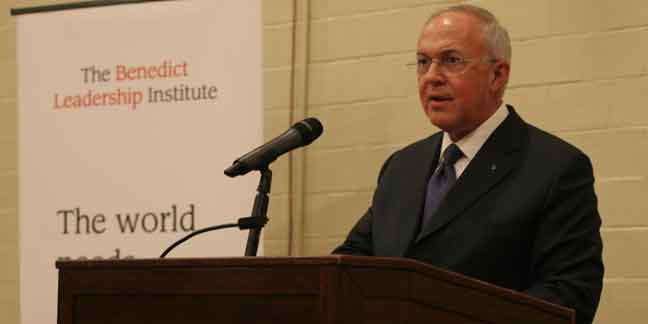 BELMONT — Carl Anderson, Supreme Knight of the Knights of Columbus, received the inaugural Benedict Leadership Award from the Benedict Leadership Institute at Belmont Abbey College March 24.
The Benedict Leadership Institute was founded in 2016 to develop and inspire Catholic leaders to transform society in light of their faith. The Benedict Leadership Award is a key activity of the institute.
It selected Anderson for his leadership in aiding and advocating for persecuted Christians in the Middle East. As the head of the Knights of Columbus, Anderson has repeatedly called for the protection of Christians facing genocide in Iraq, Syria and elsewhere. Under his leadership, the Knights have raised more than $12 million for humanitarian relief of Christian refugees since 2014, including $2 million in new assistance for Syrian and Iraqi Christian refugees that Anderson announced earlier this month.
"It's an honor to receive this inaugural award," Anderson said during his acceptance remarks.
"If anyone had asked me who should be the first recipient for the first award, I would have nominated Belmont Abbey College for the defense of our religious liberty that you undertook when you stood up against the HHS (contraception) mandate. We think about individuals being leaders, but institutions have to be, too. Institutions can only lead when they have a community of leaders dedicated and can understand the moral purpose and the moral mission, and certainly this great college has such a community of leadership and a community of vision."
One of the most pressing challenges facing the Church today, Anderson said, is the challenge of forming the next generation of Catholic men and women able to live an integrated, coherent Catholic faith.
"It is especially appropriate that such an initiative (Benedict Leadership Institute) should begin here at Belmont Abbey College, an institution steeped in the ethos of St. Benedict, whose maxim 'ora et labora' ('prayer and work') has inspired countless generations of Catholics to find ways that the spiritual reality of their faith may truly inform their life and their work," he said.
During his keynote address, Anderson highlighted the plight of Christians in the Middle East.
"Christianity was born in the Middle East. We often forget that today," he said. "For the first 1,000 years the Middle East was the center of Christendom… For the past 100 years Christians have been squeezed out of the Middle East.
"From 1910 to 2010, the New York Times reports, the Christian population of the region went from 14 percent to 4 percent. That was before ISIS."
The Christians who survived earlier forms of genocide did so in large part because of direct aid from the American government and the American people, he said. "A century ago our government understood that these people needed to be saved. It was a public/private partnership. Government officials including President Woodrow Wilson urged Americans to assist those who were facing extinction."
How different things have become a century later, he continued. As the so-called Islamic State, or ISIS, swept across northern Iraq in 2014, there was no significant movement by the U.S. government to save Christians and other religious communities from being killed or displaced by the extremists – which has forced people to convert to Islam or die, endure rape and sexual slavery, and their homes and businesses burned. Priests and religious have been kidnapped or killed, and churches and monasteries have been looted or destroyed.
Today, most Christians have fled Iraq, and the number of Christians across the Middle East continues to dwindle to an alarming level.
Christians in the region have now reached the tipping point, Anderson said, on the edge of extinction because they will not renounce Christ.
"Where has been the effective leadership in the West to rescue them?" he asked.
A priest friend of his in Erbil, Iraq, who was kidnapped and tortured by Islamic terrorists, has said that "Genocide is the polite word for what is happening to Christians in Iraq today."
"As the Psalmist says, 'There is a season for all things,'" he continued. "Perhaps the season for polite words has passed. Perhaps the time for cordial dialogue and polite petitions and government studies has passed. Perhaps now is the season for passionate leadership in defense of Christians in the region."
"I would say now is the time for action. Their plight calls out to us for action and a new spirit of Christian solidarity. Their witness should inspire us to take up the challenge," he said.
He echoed his March 14 national statement – made on the one-year anniversary of the U.S. labeling ISIS atrocities as genocide – about the need to pray for and assist persecuted Christians.
Prior to his keynote address, Anderson accepted the Benedict Leadership Award from Benedictine Abbot Placid Solari, Belmont Abbey chancellor; Dr. William Thierfelder, president of Belmont Abbey College; and Conor Gallagher, executive director of the Benedict Leadership Institute.
The institute plans to confer the Benedict Leadership Award annually, recognizing Catholic men and women whose achievements reflect the leadership of St. Benedict. The bronze bust is a partial replica of an original statue of a young St. Benedict that graces the main hallway inside Belmont Abbey Monastery. It was crafted by Kelly Somey of Reno, Nevada.
Benedict Leadership Award recipients are also given a $10,000 award. Anderson said he is donating the money to the Knights of Columbus' efforts to aid Yazidi and Christian women who are receiving care in an Erbil medical clinic after escaping slavery under ISIS.
More online:
At www.kofc.org/un/en/charities/christianrelief: Learn more about how the Knights are helping Christians in the Middle East, and donate
to the cause
















'We should not force them to be refugees'

Catholic News Herald exclusive interview with Supreme Knight Carl Anderson

BELMONT — Before receiving the inaugural Benedict Leadership Award from the Benedict Leadership Institute March 24 at Belmont Abbey College, Supreme Knight Carl Anderson of the Knights of Columbus gave an interview to the Catholic News Herald on receiving the award and the work of his fraternal organization to aid persecuted Christians:

CNH: How do you feel about receiving the inaugural Benedict Leadership Award?

ANDERSON: Of course I am honored and humbled because there are so many people who could be worthy recipients of this. I love North Carolina, so it's great to be here for this. I have many friends who have been associated with Belmont Abbey College, so from all those perspectives I am very happy to be here.

CNH: How did the Knights of Columbus become such staunch supporters of persecuted Christians?

ANDERSON: I think it was a result of us seeing what was happening, finding that there really was no other organization that had the resources to be an advocate, and therefore we decided that it was time for us to step into the breach and see what we could do to marshal some of our resources and go forward.

CNH: You indicated in your March letter to the Knights of Columbus that you are planning to continue your help to the persecuted Christians and look at ways to provide more help.

ANDERSON: The current needs continue, so we will keep trying to provide medical care, food, housing, education – especially Christian education – and also help the clergy. Then the question becomes, what is their future? Now that we have saved them in the immediacy of the crisis, how do they look forward to a future?

We have to begin to think about what it means to keep them in this place. That will require a government/private partnership. Part of what we will be doing in the next year or two is advocacy so that the government will do its fair share. Right now the government has been ignoring this situation, and that really should stop.

CNH: Many in the Church want to help the Christians stay in their homeland. Is that your feeling as well?

ANDERSON: Yes, it's not so much a question of forcing them to be refugees. We should not force them to be refugees. We should help them stay in their homes. They are tremendously proud to be Iraqi. They are very proud to be Syrian. They don't want to leave. They want to stay there. But they need help to stay there.

The devastation that we have seen in Mosul is unbelievable. Raqqa, unbelievable. There are Christian villages, Christian areas of town completely destroyed, still with explosive devices hidden. It is going to take years for them to come back, if they can at all. It is going to take a lot of effort.

CNH: What would you encourage the laity to do in coming to the aid of persecuted Christians?

ANDERSON: We can pray. We can advocate with our elected officials. We can keep this question before our parishes. We can be in solidarity with those people, because they feel terribly cut off and abandoned. And we can, when we get an opportunity, raise money so we can provide some material aid.

At the close of the interview, Anderson shared that since 2014 the Knights of Columbus has distributed more than $12 million to help aid persecuted Christians. He said he hopes to be able to donate an additional $4 million-$5 million over the next couple of years.

— SueAnn Howell, senior reporter

Pray and donate to the cause of Christians in the Middle East

The Knights of Columbus Christian Refugee Relief initiative has raised more than $11 million in public donations for those suffering persecution in Iraq and the surrounding region. Learn how you can help: www.kofc.org/en/charities/christian-relief kofc.org/en/charities/christian-relief

The Knights of Columbus also encourages all to say the Prayer for Persecuted Christians, composed by Archbishop William E. Lori of Baltimore:

O God of all the Nations,
the One God who is and was and always will be,
who in your providence willed that your Church be united to the
suffering of your Son,
look with mercy on your servants in Iraq
who are persecuted for their faith in you.

Grant them perseverance and courage to be worthy imitators of Christ.
Bring your wisdom upon leaders of nations to work for peace among all peoples.
May your Spirit open conversion for those who contradict your will that we live in harmony.
And in all things may we be united in truth and freedom to seek your will in our lives.

We ask this through Christ our Lord.
AMEN.

Our Lady, Queen of Peace,
Pray for us.

Prayer for Persecuted Christians (PDF download)216.19 KB