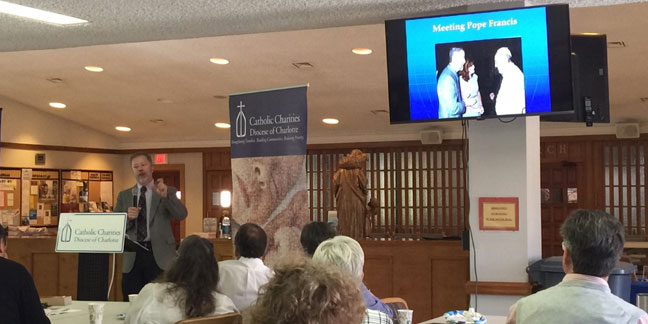 ARDEN — Catholic Charities Diocese of Charlotte hosted its annual Respect Life Conference at St. Barnabas Church in Arden Sept. 16. The conference brought together 58 Respect Life parish coordinators and other Respect Life advocates from around the diocese.
The conference proceedings, offered in English, were also translated into Spanish. Conference attendees had the opportunity to begin the day assisting in the celebration of Mass, with Father Adrian Porras, pastor of St. Barnabas Church, as celebrant. Keynote presenter Dr. John S. Grabowski (pictured), associate professor of moral theology at the Catholic University of America in Washington, D.C., spoke on "'Humanae vitae' 50 Years Later: Prophecy and Prescription for our Culture."
In addition to his academic work, Grabowski serves as theological advisor to the U.S. bishops' Committee on Laity, Marriage, Family and Youth.
Plenary presenter Debbie Shinskie, director of the Respect Life Office of the Archdiocese of New Orleans, spoke on their efforts in battling human trafficking.
Workshops on a variety of topics included: USCCB Pro-Life Secretariat updates, End of Life Ethics, How to Build a Local Pro-Life Coalition, Legislative Respect Life Work, Post-Abortion Healing, and the Be Not Afraid ministry. The 2018 Respect Life conference will be held in the Piedmont-Triad region, with the site and date to be announced in December. The diocesan Respect Life office is funded in part by the annual Diocesan Support Appeal.
— Photo provided by Joseph Purello