Viewpoints
Bishop Jugis: Let us receive the Eucharist with a joyful and enthusiastic 'Amen'!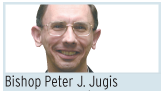 One of the things I enjoy doing most for you as your bishop is to celebrate Mass when I come to visit your parish for different events. I really look forward to being with you on those occasions for the celebration of the Mass. As bishop, I have to shepherd the entire diocese and work to keep the sheep of the flock together, united in the Lord. And the Mass is the place where we do come together as one in the Lord.
That is why the Eucharistic Congress is such a tremendous joy for me: we all come together from parishes across the diocese to celebrate the Eucharist as one family. All around, you see many individuals, and maybe there are some people around you that you may not even recognize. But there is a spiritual bond already existing between all of you because of your baptism – our common baptism in Christ. It is the Eucharist, though, that makes that spiritual bond, which is already existing, stronger and more perfect. And so it is with good reason that we call the Eucharist the sacrament of unity and also the sacrament of charity. I am delighted that you are all here today for this Mass.
At the Last Supper, Jesus told His Apostles: "I have eagerly desired to eat this Passover with you before I suffer." The time had come for Jesus to show His great love for us. He knew the time had come for His suffering. "Greater love hath no man, but that he lay down his life for his friends."
And He says, "I have eagerly desired to eat this Passover with you." He is eager to celebrate the Passover before He suffers. He is eager to give Himself to us in the Eucharist; He is eager to create this living Memorial of His passion and resurrection. He is eager to show us His love.
And then He says those memorable words: "Do this in memory of me." What beautiful words! The offering of Jesus eagerly desiring to give Himself to us is to be celebrated over and over again. His love is to remain in the very heart of the Church, so that we may receive the gift of His sacrifice until the end of time – His eagerly desiring to give Himself to us.
"I have eagerly desired to eat this Passover with you before I suffer." (Luke 22:15). Do we match Jesus' eager desire with our own eager desire to come meet Him at Mass? Do we say: "I am eager to go to Mass; I want to go to Mass; I hunger for the Eucharist; Jesus wants to give Himself to me, and I want to receive Him"?
It's a good question to ask ourselves, to make sure that we have the proper attitude toward Sunday Mass. An important way that we show our eager desire to receive Him is by our preparation to receive Him; that there is some preparation – prayerful preparation, by prayer to receive Him at Holy Mass; by confession; by our whole life lived in conformity with the Gospel. All of that shows our eager desire to receive the One who eagerly desires to give Himself to us. Are we so enthusiastic about the prospect of receiving Jesus – His Body and Blood?
Do we prepare ourselves by dressing modestly for Mass? I enjoy celebrating the sacrament of confirmation when I visit parishes, and I often compliment the confirmation students for wearing their Sunday best to come for the celebration of their confirmation. I like to tell them: I would like to see you wear your Sunday finest every Sunday!
Is there enthusiasm on our part for the Eucharist, and a desire on our part for the Eucharist? Is the Eucharist really the summit and the source of our life? Is it really the center of our life around which everything revolves? For you, does everything in your Christian living flow from the Eucharist, or are there parts in our life that are separated from the Eucharist? Does the Eucharist give life to everything you do, day in and day out? Does His love so transform your life that your love in action leads you back to the summit of your Christian living, to a more faithful and fervent celebration of Mass? It's worth thinking about: the place of the Eucharist and our eager desire to receive Him into our life.
We can learn a lot from the example of the early Church in the time of the Apostles about their eager desire to receive the Lord (Acts 2:42). We are told that the Christian community devoted themselves to the Breaking of the Bread – in other words, to the Eucharist. They devoted themselves, that's what St. Luke tells us in the Acts of the Apostles – in other words, they were eager to celebrate the Eucharist and to pray. Their life was centered on the life-giving sacrifice of Christ in the Eucharist.
We are also told that the early Christians devoted themselves to the Apostles' instruction; they were eager to know their Christian faith, to know the teachings of Jesus being handed on to them by the Apostles. We have those very same opportunities today in our parishes: to study the faith, to study the Scriptures, to attend classes or talks on different topics of faith. Are we eager for this, as were our brothers and sisters of the first generation who devoted themselves to the Apostles' instruction?
In that same passage from the Acts of the Apostles, we are told that the Church in the time of the Apostles was devoted to the communal life. They wouldn't think of absenting themselves from the Sunday assembly. That would have been a concept completely foreign to their minds. And if someone were so seriously ill and not able to come to the assembly, they brought Holy Communion to that person, so devoted were they to being together – the communal dimension of their faith.
I want to thank you as your bishop for your devotion to the life of your parish, your eager desire to be together at the Sunday assembly, and with your brothers and sisters at Mass. Thank you for showing the world, by your attendance at Mass, that you are devoted to being together, as our brothers and sisters showed us by their example from the first generation. Thank you for showing the world that Sunday is a holy day for the Lord.
The Christian community also must have produced a veritable avalanche of charitable outpouring. Because we read in that same passage, that Luke describes the early Christian community, that in order to take care of the daily distribution of goods, not just one deacon, but seven deacons were needed for the distribution of charity. And in addition, there was a daily distribution of that charity. That means that it took seven men working every day to distribute all the charity to the needy in the Jerusalem community. That is a veritable avalanche of charitable outpouring from our early Christian brothers and sisters – a flowing from the Eucharist from their communion with Jesus, making them overflowing with love for the needy, for their brothers and sisters.
There you have enthusiasm, there you have eagerness, to match Jesus' own eager desire to give Himself to us.
How do we respond to this love that has been so lavishly bestowed upon us?
In this Mass we have the opportunity again to adore Our Lord. At the consecration, when I elevate the Body of Christ and I elevate the chalice with the Blood of Christ for all to see, we will worship him. That is precisely what that moment is for, to adore the Lord, who is now present. With the eyes of faith we acknowledge His Real Presence, and with love we proclaim His death and resurrection until He comes again in glory. And later, in Holy Communion, we are privileged to say "Amen" – the enthusiastic response of our amen of faith. The Lord Jesus is present – Amen! My Savior offers His life for me, He has come to me! It is an enthusiastic response to match the eager desire with which He wishes to give Himself to us.
Where is the love that can change our world? It is right here at the altar: the Holy Eucharist. May this Eucharistic Congress nourish your faith in our Eucharistic Lord. May His love lift you up. Jesus eagerly desires to give Himself to you. With joy, let us receive Him!
-- The Most Reverend Peter J. Jugis is the bishop of the Diocese of Charlotte. He delivered this homily during the closing Mass of the congress on Sept. 24.
1
2
3
4
5
6
7
8
9
10
11
12
13
14
15
16
17
18
19
20
LETTERS FROM OUR READERS
Christian charity means protecting our own

I must take umbrage with the Dec. 4 commentary by Dr. Kamila Valenta, "Welcoming Syrian refugees could make our country safer." I fully understand Christian charity, but this will not ensure...

Refugee policy should be based on common sense

The Dec. 4 commentary by Dr. Valenta is misleading and does a disservice to your readers. The issue is not whether we as Catholics should accept refugees, but how we should do it. When my parents...

Show refugees the love of Jesus by our welcome

I agree with Dr. Valenta's Dec. 4 commentary on welcoming Syrian refugees. The refugees are fleeing evil and are searching for something else. This is a perfect opportunity for Christians to...
1
2
3
4
5
6
7
8
9
10
11
12
Read and listen to homilies posted regularly by pastors at parishes within the Diocese of Charlotte: