Viewpoints
Bishop Burbidge: Strengthened and renewed in faith, go home with renewed zeal to serve others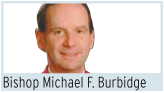 llow me to begin by thanking you, Bishop Jugis, for your kind and gracious invitation to preach at this Holy Hour. I am so honored to be with you, the priests, deacons, consecrated religious and lay faithful of your vibrant and faith-filled diocese and with all those who gather at this Eucharistic Congress.
This past August, clergy, religious and laity, including approximately two million young people from all around the world, gathered for World Youth Day in Madrid, Spain, to be with Our Holy Father, Pope Benedict XVI. Throughout those days, there were opportunities for our young people to learn more about their faith and to discuss it with others. There were Masses and other prayerful celebrations that provided grace-filled moments for all of them.
The one celebration that most deeply touched me was the prayer vigil with the Holy Father. It was a stormy and rainy night. The heavier the winds and the rains became, the louder and more enthusiastic the young people became – nothing was going to ruin this night. They continued to sing and cheer. After about 20 minutes, the rains stopped. Then, the ceremony continued and the Blessed Sacrament, Jesus in the Most Holy Eucharist, was placed in the monstrance and on the altar. I will never forget it. All of a sudden, without any instruction, close to two million young people simply knelt, and there was dead silence. There we were in an open field and there was not a sound. The silence was extended for a significant period of time. The next day I asked one of the young people, "How is it possible to get that many young people so quiet?" He said, "The power of Jesus, Bishop, the power of Jesus!"
Dear friends in Christ, this Eucharistic Congress proclaims and celebrates the power of Jesus in the Most Blessed Sacrament. We proclaim together our beliefs that the Eucharist is the Body, Soul and Divinity of Jesus Christ, His very real presence, the bread of life, the cup of salvation, and the source and summit of our lives and all that we do. And so we come to this Holy Hour and fall on our knees; we offer praise and worship to our God; and, we allow time to be still and silent in the presence of Our Eucharistic Lord and to experience His grace and power in our lives.
One of the great gifts of World Youth Day was to see the immense joy of our young people as they realized the precious gift of being members of the one, holy, Catholic and apostolic Church. As you know, our young people face many challenges as they seek to live their faith in today's society. They hear many conflicting voices that speak untruths. They are challenged and even dismissed and rejected by many of their peers who mock those who believe. They are ridiculed for wanting to live chastely, purely and honorably. No wonder they were so uplifted at World Youth Day. They strengthened, encouraged and supported one another and participated in many activities that helped them to experience and embrace the reality of the theme for World Youth Day: "Rooted and built up in Jesus Christ: Firm in the Faith."
No wonder I heard so many young people somewhat amusingly say, "I do not want to leave. I want to stay in this sacred place." But they knew they could not. Just like the disciples on the mountain of transfiguration, the young people knew that they had to come down from this "peak experience" and return home. They were reminded that the graces and blessings they received from God were not for them alone. Those gifts were given to them so that they would be "firm in the faith" and go forth renewed in their commitment to share their faith and to imitate the selfless service of the Lord. Those young people understand the meaning of your theme for this Congress: "Do this in memory of Me."
The Gospel account just proclaimed brings to us the dramatic scene in which Jesus washed the feet of His disciples and then said to them, "I have given you a model to follow so that as I have done for you, you also should do." It is a powerful reminder that we who receive the Body and Blood of Christ must offer our very lives in service to Him and His people.
It may be safe to presume that most of us welcome and embrace that challenge. As wonderful as this Eucharistic Congress is, you understand fully that you cannot stay in this sacred place. Strengthened and renewed in the faith, you must go home with renewed zeal to serve others. I believe we can all say that we find meaning, purpose and joy in washing the feet of those in most need.
Thank God, this service happens daily in your homes, parishes and throughout your wonderful diocese as you work together in defending the sacredness of all human life from conception to natural death and in proclaiming the dignity of each and every person. You wash the feet of others and "do this in memory of Jesus" in your compassionate care of the poor, the hungry, the homeless, the sick and the most vulnerable in our midst. It happens as you welcome and embrace the immigrant and the stranger. We "do this in memory of Jesus" as we reach out to those who have grown lukewarm in their faith – or maybe even abandoned it – and assure them of God's infinite mercy and love for them. Let all of us, dear friends, renew that commitment this evening! It is this humble, selfless and compassionate service that unites us as God's holy family.
While we may readily embrace the call of Jesus to wash the feet of one another, we may struggle at every stage in life to allow our feet to be washed by Jesus and by all those who love us. If so, we are no different than Peter in tonight's Gospel. He did not want to depend on anyone, not even Jesus. There was no way Peter was going to have his feet washed. He was going to take care of himself. Does that sound familiar?
What is it that keeps us, at times, from acknowledging our dependency on Christ Jesus? Maybe it is the pride of Judas who put money and power before God. Maybe it is the exaggerated self-importance of Peter and his insistence on "being in control." Maybe it is the refusal to acknowledge our sins and weaknesses and need for God's infinite mercy. Whatever it is, we must, with God's grace, submit ourselves and our lives to the Lord so that we may echo the words of Peter: "Master, then not only my feet, but my hands and head as well."
How do we get to that point of humility? It must begin with a deep realization of the great love that our Lord Jesus has for us. As we gather at this congress with our focus on the most precious gift of the Holy Eucharist, we celebrate the reality of being loved so incredibly that Jesus gives us Himself, His very Body and Blood, so that our sins may be forgiven and we may be strengthened for our pilgrimage on earth and life with Christ. Remember, there is no sin, no failure, no mistake that is greater than His love and mercy. Thus, ponder anew God's great love for you and give thanks for the gift of this Eucharist and for all His countless blessings.
It is my hope and prayer that this Eucharistic Congress also renews your commitment, in the midst of the storms we all face in life, to discover the power of Jesus simply by being with Him each and every day, listening to His voice and seeking His guidance and amazing graces. We must leave this sacred place dedicated to growing closer to Jesus.
At this Holy Hour and at every Mass, we celebrate the great love that God has for us, perfectly revealed in the gift of His Son in the Holy Eucharist. This precious gift also brings two challenges: First, and this can be the most difficult for many of us, with all humility we must allow Jesus to wash our feet with all their stains – and especially when they are tired and weary. And then in turn, we must go forth in service to wash the feet of one another and those in most need, in imitation of Christ who says, "I have given you a model to follow and as I have done for you, you should also do." In other words, "Do this in memory of Me!"
-- The Most Reverend Michael F. Burbidge is the bishop of the Diocese of Raleigh. He delivered this homily during the Holy Hour at the congress on Sept. 24.
1
2
3
4
5
6
7
8
9
10
11
12
13
14
15
16
17
18
19
20
LETTERS FROM OUR READERS
1
2
3
4
5
6
7
8
9
10
11
12
Read and listen to homilies posted regularly by pastors at parishes within the Diocese of Charlotte: