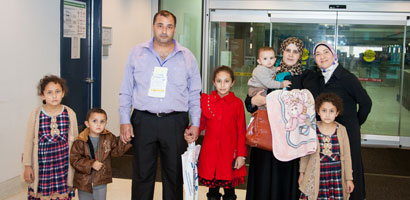 Asim Basara left behind war, bombs and most of his family when he, his wife and their children fled their home in war-torn Daraa, Syria.
Three weeks ago, they arrived in the United States – finally safe, grateful to be able to rebuild their lives after four years of living in fear and uncertainty.
The Basara family is the first of what is expected to be many Syrian refugees that Catholic Charities Diocese of Charlotte expects to welcome over the coming months and years.
With the help of a member of the local Syrian community acting as an interpreter, Mayada Idlibi, Basara recounted how he was forced to abandon his home in 2011 out of fear for his life and the safety of his family.
"I'm sad to leave my family behind in Syria, but I hope to find in the United States safety to raise and educate my children," Basara said.
As the Arab Spring unfolded throughout the Middle East and north Africa in late 2010, opposition to Syrian President Bashar al-Assad grew – finally erupting in violence in March 2011 in the Basaras' hometown of Daraa. Dozens were killed in the subsequent security crackdown, provoking protests that spread to other parts of Syria. Things got worse after his brother Zeyad was tortured and killed by the Syrian regime in 2012, Basara said.
Pictured: Members of the Basara family are greeted at the Charlotte airport by interpreter Mayada Idlibi upon their arrival last month. (Photo provided by Kathleen Durkin, Catholic Charities Diocese of Charlotte)
Now, five years later, tens of thousands of refugees are trying to escape what has become a brutal civil war – with an estimated 5,000 people leaving daily. So far, 4.1 million Syrians have fled the country and another 6.5 million have been internally displaced. Exact numbers are impossible to know, but in January the United Nations estimated the number of deaths in the conflict at 220,000 – including 13,155 in Daraa.
Many of the refugees are facing hardships as they make their way to safety, and Pope Francis has called on dioceses and churches to respond by taking in refugee families.
For several weeks, the phone at Catholic Charities Diocese of Charlotte has been ringing with questions and offers of help.
Cira Ponce, director of Catholic Charities' Refugee Resettlement Office, said they have received a growing number of calls from local churches and individuals, both Catholic and non-Catholic, wanting to know how they can help. Until now, Catholic Charities had not received any Syrian refugees, as the U.S. government screening process for Middle Eastern refugees is typically slow. To date, the U.S. has accepted only about 1,600 refugees, but the Obama administration has pledged to accept tens of thousands more.
So, Ponce said, her office received news of the Basara family's arrival last month with excitement and anticipation. The federal government approved the family's asylum request more quickly than usual, she noted, because they had been sheltering in Jordan for the past three years.
"They were fortunate enough to have been processed and approved for resettlement overseas earlier than the majority of other Syrian families," she said.
Catholic Charities resettles about 360 refugees, who come from all over the world, to the Charlotte area each year. Over the past 40 years, the diocese has resettled approximately 15,000 refugees from 27 different countries. The resettlement work is a partnership among Catholic Charities, the U.S. Conference of Catholic Bishops and the U.S. State Department.
Through the USCCB, dioceses around the country may resettle up to 25 percent of the new refugees expected from the Syrian civil war, Ponce said.
For Basara and his family, the past five years have been filled with uncertainty. He was forced to abandon his grocery store in Daraa when they fled to Saudi Arabia. There, he worked at an oil change shop to make ends meet and provide for his family. After a blood clot in one of his legs prevented him from working at the shop anymore, Basara said, the family tried returning to Syria, but the intensifying civil war made that impossible.
So they moved to Jordan, where putting food on the table became even more of a struggle, Basara recalled. The family was just one among thousands of refugees crowded into the small nation, all struggling to survive, with few prospects for a stable job or permanent home.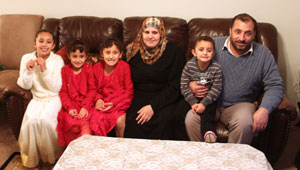 "Not many people would like to hire you over there," explained Idlibi, the family's interpreter. "They know you are a refugee sometimes and you are not stable. You might be here today and gone tomorrow. Plus, there are a lot of people moving to Jordan – not much they can offer."
The Basaras are Muslims, but that does not matter to Catholic Charities, which serves families regardless of their faith, ethnicity or race. And to Asim Basara, it doesn't matter, either.
"We are all brothers. It's a beautiful feeling," he said, adding that before the war erupted, Syrian Christians, Jews and Muslim neighbors "always lived in peace."
Ashir Haji-Mohamed, a Catholic Charities case worker supervisor, picked up the family at the Charlotte airport Oct. 28 and put them up in a hotel for a week until they were able to move into an apartment. With the help of Catholic Charities, the local Syrian community furnished the apartment for them and will continue to help the family adjust to life in a new country.
"We'll be helping them until they become self-sufficient, finding jobs and everything," Haji-Mohamed said.
The Basaras' three oldest children, an 8-year-old daughter and 6-year-old twin girls, have already enrolled in elementary school, while the two youngest, a 4-year-old boy and an 8-month-old baby, remain at home.
Arriving in the United States has been a happy but bittersweet turn in their lives, Basara said. "We were so happy to come to America, and this happiness was stronger than the pain of leaving my mom and brothers behind."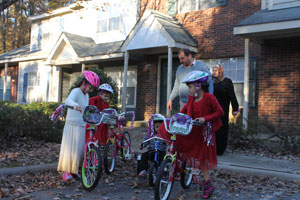 Bicycles were delivered Nov. 11 for the children thanks to the local Syrian community. (Photo by Rico De Silva, Catholic News Herald)The 25 or so families that comprise the close-knit Syrian community in Charlotte have provided a welcome connection. They have brought food to the family each day and are helping them bridge the language gap, as no one in the family speaks English.
Idlibi has lived in Charlotte since the early 1980s, but her 85-year-old mother still lives in Syria. She expressed admiration and gratitude for the work of Catholic Charities.
"I wish as a Muslim I would be able to do that ... be able to help someone to come. You guys are so lucky that you are able to get that reward from God, that you are to save some families and bring them here," she said.
"It's an amazing, very noble job and I admire you for that."
Life in America has provided a safe haven and better future for his family, as well as the chance for him to find work and restore the dignity that felt lost to them on their refugee journey, Asim Basara said.
Meanwhile, Catholic Charities is gearing up for the arrival of more Syrian refugee families – how many, though, Ponce cannot predict. Translators, case workers, donations and furnishings are all being marshaled so they can be prepared whenever needed. Most importantly, she said, they will be ready to welcome these refugees with smiles and open arms, just as they have done over the past four decades for refugees from other conflict zones around the world.
Editor's note: The names of the refugee family have been changed or omitted to respect their privacy.
— Rico De Silva, Hispanic Communications Reporter. Photos by Kathleen Durkin and Rico De Silva.

How you can help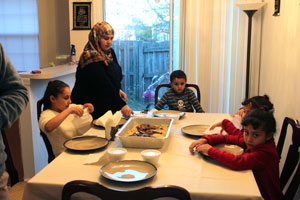 Cira Ponce is often asked what kind of aid her office needs in resettling the refugees. Financial support gives Catholic Charities the greatest flexibility, she noted. "It covers everything, from going to the airport, to setting up an apartment, to training volunteers."
She added, "We need two- and three-bedroom affordable apartments. We also need furniture – dining tables with chairs, sofas, loveseats and living room chairs, coffee tables, lamps and bedroom furniture – and household items like dishes, cooking supplies (pots, pans, rice cookers). We can also use volunteers who can help with pickup and delivery of donated items."
More information about the needs of Catholic Charities and opportunities for volunteering is online at www.ccdoc.org. Click on the "Donate" or "Volunteer" tab to see all the ways you can assist and welcome refugees.
Monetary donations can be made online or mailed to Catholic Charities Diocese of Charlotte, 1123 S. Church St., Charlotte, NC 28203.
For inquiries about how you can volunteer or how your parish can sponsor a refugee family, contact Catholic Charities Diocese of Charlotte at 704-370-3262.