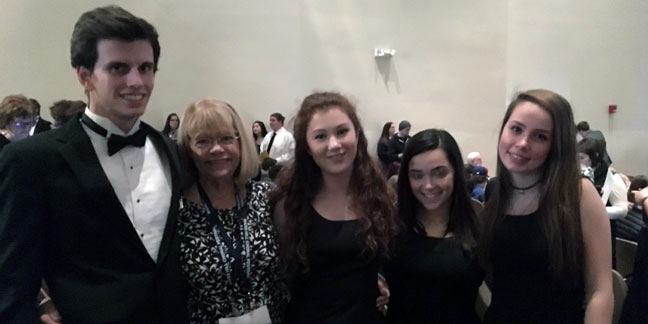 CHARLOTTE – Four choral students at Charlotte Catholic High School were selected to participate in the 69th annual Mars Hill University Choral Festival, held Feb. 3 and 4.
Jonathan Huth, Chelsea Smith, Emma Story, and Maura Streppa were selected through auditions held in October 2016. More than 800 students auditioned throughout the state of North Carolina, and from those auditions, 280 were chosen for the festival choir. Dr. Craig Jessop, the former conductor of the Mormon Tabernacle Choir, served as the guest conductor and clinician for the two-day festival, which culminated in a concert held on Feb. 4.
The Mars Hill University Choral Festival was established in 1949 as an effort to improve choral music in the high schools of western North Carolina. In its early years, the festival was comprised of about 15 schools in the area surrounding Mars Hill University. It has grown to become one of the premiere choral festivals in North Carolina, and is thought to be the longest continuously-running festival of its type in the southeast.
Ms. Dottie Tippett, Choral Director and Fine Arts Chair at CCHS, noted that Dr. Jessop commented at a choral directors' luncheon that he doesn't know of another state that offers such a prestigious festival for high school students.
"It's such an honor for Jonathan, Chelsea, Emma, and Maura to be selected," she said. "We are all very proud of them."
The Fine Arts Department at CCHS offers students the opportunity to explore different disciplines, participate in varied performances throughout the school year, and experience joy and satisfaction in the arts. Teachers delight in finding hidden talents and encouraging their students to progress to the next level. Disciplines within the Fine Arts Department include Band, Choral Music, Dance, Photography, Visual Art, and Theatre.
— Provided by Carolyn Tillman