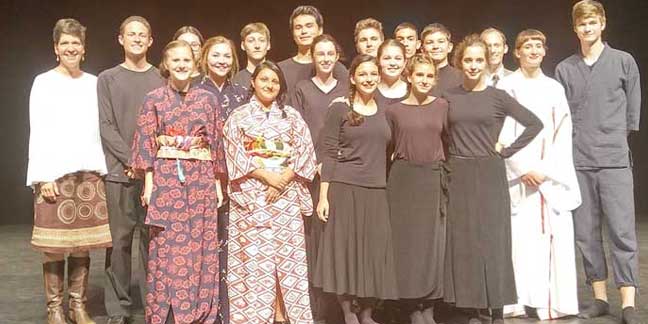 FLETCHER — Canongate High School, an independent high school in the Catholic tradition, is celebrating after bringing home first-place honors from the 2016 North Carolina Theatre Conference High School Play Festival, recently held at Gardner Webb University.
The school's theatre program, led by director Jennifer Murrey, presented "The Crane Wife," a traditional Japanese folk tale. Not only did the young school win a superior rating and the Judges Choice Award for Distinguished Play, Murrey won an Excellence in Directing award and senior Quinn Kelsch was honored for excellence in acting. Additionally, the school won a Festival Spirit Award and Excellence in Set and Properties honors. As a result of winning the Judges Choice Award, they were invited to perform at the North Carolina state conference in Greensboro.
Before going to the state conference, the Canongate troupe traveled to Asheville Catholic and Immaculata School to preview the play before local audiences. The week before the state conference, Canongate students joined with Hendersonville High School actors to perform their plays, raising funds to offset both schools' travel expenses and bringing awareness of Canongate to the Asheville area.
Canongate went on to present "The Crane Wife" at the state competition at Greensboro College Nov. 17-18. There they competed against 17 other high schools, and returned to Fletcher with both a superior rating and the Excellence in Puppetry Award.
The NCTC High School Play Festival is the largest high school theatre event in the Southeast. This year, 3,000 stu-dents from 90 schools performed 126 plays. The NCTC High School Play Festival is made possible with support from the N.C. Arts Council, The Beattie Foundation, Lincoln Financial Group, the Moore County Unrestricted Endowment Fund, and Barbizon Lighting Co.
— Karen Kater, Special to the Catholic News Herald