Viewpoints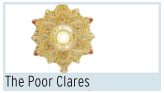 As the oldest of 10 children, I have clocked in many hours of babysitting. I grew comfortable manning the ship while relying on tried-and-true cookie recipes, fingerpaints, and three-hour long movies. From changing diapers to running to basketball practice, I felt confident that I had everything under control – until a sudden deafening silence would alert me that, in the twinkling of an eye and behind my back, the little guys had disappeared. In chagrin and haste, I would search for the small rascals because I knew that the lack of noise meant they were probably up to something.
In a similar way, silence in the interior life is not simply a void or mere absence of noise, but the fertile ground for action – in this case, it is the prerequisite for the positive action of God in the life of the soul. The truth of this reality is revealed within nature itself. A constant reminder of God's hidden action, nature's example inspires us to open our hearts to silent activity within prayer. In prayer we come to know Christ, who chose the way of silence Himself as the conduit for His greatest works. Modern society bombards us with noise, distracting us from recognizing those graces of Jesus. By fostering a deep silence through practical means, we can cultivate the seedbed of our soul for the fruitful action of the Father in our lives.
First of all, consider the natural phenomena that take place in hidden silence. The sun rises and sets, wildflowers sprout up and bloom, and human life develops within a mother's womb. The miracle of life in nature is shrouded in silence.
From these examples, we recognize God's invitation to draw close to Him in prayer with His own silence. He revealed Himself to Elijah, not in thunder or an earthquake, but in a small, still voice.
Regarding the Trinity, St. John of the Cross points out, "One Word spoke the Father, which Word was His Son, and this Word He speaks ever in eternal silence, and in silence must it be heard by the soul."
God sent His Son on that "Silent Night," while most of the world remained oblivious to the miracle taking place. Jesus spent 30 years of His life out of public view, giving us an example of how to live the interior life. When He completed the greatest act of love on the Cross, He gave us His Last Testament in merely seven sentences. The Resurrection itself occurred in silence in the early morning. Through His own example, God wants us to grasp the importance of silence and to pattern our interior life in such an atmosphere.
God invites us to foster an atmosphere of interior silence, but our society makes it difficult. Everywhere we go, we are bombarded by noise: cell phones, iPods, portable computers, televisions. We constantly overload our minds with information, while making ourselves available at every moment to everyone – except for that quiet voice of our Lover.
God will not compete with the clamor of the world. He waits for us to make Him the treasure of our hearts, so it is up to us to make the necessary efforts and movements to nurture silence in our lives.
Here in the monastery, we have set times for silence, because we know it is absolutely vital to our spiritual life. Religious, however, are not the only ones called to deep interior lives. The laity are also called to reach into the depths of divine love and to scale the heights of holiness. Without some degree of silence in your daily lives, this is simply impossible.
Incorporating small habits of silence is vital for everyone. Take at least 15 minutes a day to step back from noisiness of life and retreat to a quiet place to listen to God. Try to leave the computer off on Sundays.
At first, silence may be intimidating, but repetition is the key. We must regularly practice exterior silence to cultivate interior silence, when God will speak to us in the depths of our hearts. Practicing silence is like learning a new language – the language of God – and the most beautiful conversations take place in the silent soul.
Sister Mary Raphael of the Divine Physician is professed with the Poor Clare Nuns of Perpetual Adoration St. Joseph Monastery in Charlotte. This is part of a monthly commentary by the Poor Clares to focus on topics of faith and to address questions about religious life. Learn more about the community and subscribe to their newsletter by going online to www.stjosephmonastery.com.
1
2
3
4
5
6
7
8
9
10
11
12
13
14
15
16
17
18
19
20
LETTERS FROM OUR READERS
Warrior saints are found throughout history

Regarding the April 26 letter criticizing St. Nicholas of Flue, I am disgusted that an American would insinuate that a soldier who distinguishes himself or herself in combat is not following...

Who would be worthy?

In a letter in the April 26 Catholic News Herald, St. Nicholas of Flue was referred to as someone who "did not follow those teachings" of Christ because he defended the faith with his sword and...
1
2
3
4
5
6
7
8
9
10
11
12
Read and listen to homilies posted regularly by pastors at parishes within the Diocese of Charlotte: