Viewpoints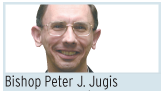 I look forward to welcoming you next month to the Eucharistic Congress. Our seventh annual Eucharistic Congress will be held Sept. 23-24 at the Charlotte Convention Center. I hope you have already reserved these dates on your calendar and that you are planning to attend. Preparations have been underway for more than a year, and many volunteers have already been working countless hours for this year's Congress.
The theme for our Congress is taken from Jesus' words to His Apostles at the Last Supper: "Do this in memory of me." (Luke 22:19)
During the Last Supper Jesus instituted the memorial of His sacrificial death and resurrection. He gave His Body and Blood to His disciples, but He also did more. In addition to giving Himself to His disciples, Jesus also instructed them, "Do this in memory of Me," indicating that He wanted His disciples to repeat what He did at the Last Supper.
In his book "Jesus of Nazareth (part II)," Pope Benedict XVI writes: "We may ask: what exactly did the Lord instruct them to repeat? Certainly not the Passover Meal.... The instruction to repeat refers simply to what was new in Jesus' actions that evening: the breaking of bread, the prayer of blessing and thanksgiving accompanied by the words of consecration of bread and wine."
What the disciples were told to do, they did in fact carry out, and as a result the Eucharistic sacrifice Jesus instituted at the Last Supper has continued to remain present in the Church through the centuries.
"Do this in memory of Me": What blessed words those are, and what fortunate words they are for us! They express the Lord's desire to remain really present among us, and His desire to continue His work of redemption.
In the encyclical "Ecclesia de Eucharistia," Blessed John Paul II reminded us of this double gift that comes to us in the Eucharist: "It is the gift of Himself, of His person in His sacred humanity, as well as the gift of His saving work.... When the Church celebrates the Eucharist, the memorial of her Lord's death and resurrection, this central event of salvation becomes really present and the work of our redemption is carried out.... Each member of the faithful can thus take part in it and inexhaustibly gain its fruits."
In the Eucharist Jesus Himself is really present, and at the same time He takes us up into the saving event of His suffering, death and resurrection. He thus continues the work of redemption, transforming us through His paschal mystery.
In the Eucharistic hymn "O Sacrum Convivium," we praise the Lord's gift of Himself and the gift of our being taken up into His redemptive act: "O sacred Banquet, wherein Christ is received; the memory of His Passion is renewed, the mind is filled with grace, and the pledge of future glory is given unto us."
Abundant grace is available to us through the Eucharist because of the Apostles' faithful fulfillment of the Lord's command: "Do this in memory of Me." May the Eucharistic Congress be for each one of us a joyful celebration of faith in our Eucharistic Lord, and an occasion of growth in holiness.
Bishop Peter J. Jugis leads the Diocese of Charlotte.
1
2
3
4
5
6
7
8
9
10
11
12
13
14
15
16
17
18
19
20
LETTERS FROM OUR READERS
Christian charity means protecting our own

I must take umbrage with the Dec. 4 commentary by Dr. Kamila Valenta, "Welcoming Syrian refugees could make our country safer." I fully understand Christian charity, but this will not ensure...

Refugee policy should be based on common sense

The Dec. 4 commentary by Dr. Valenta is misleading and does a disservice to your readers. The issue is not whether we as Catholics should accept refugees, but how we should do it. When my parents...

Show refugees the love of Jesus by our welcome

I agree with Dr. Valenta's Dec. 4 commentary on welcoming Syrian refugees. The refugees are fleeing evil and are searching for something else. This is a perfect opportunity for Christians to...
1
2
3
4
5
6
7
8
9
10
11
12
Read and listen to homilies posted regularly by pastors at parishes within the Diocese of Charlotte: