Viewpoints
Deacon James Toner: Finding the right college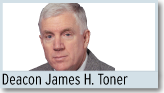 Having had a long and checkered career as a college teacher, I am convinced that one of the most important decisions students can make is where they will go to college. In fact, I will admit to strong feelings about this subject, for I have seen many students succeed – or fail – largely because of the atmosphere of the institution in which they enrolled. The choice of a major seems to me to be much less important than the place where one studies.
There are more than 4,000 public and private two- and four-year colleges in the U.S. Among most colleges today, it is a "buyer's market," where there are few academic standards students must satisfy to gain acceptance. The number of truly academic competitive institutions is, frankly, surprisingly small. In North Carolina, Wake Forest University, Davidson College and Duke University are examples of highly competitive and prestigious institutions.
Such academic powerhouses can be good choices for some students. (Because my son teaches at one of them, I had better choose my words carefully!) Even if some students could be accepted by such fine colleges, they may not always be the right places. Even though some public universities, such as Texas A&M, have excellent Newman Clubs (Catholic student associations), they may not always be the right choices, either.
If we think of college as a place to learn to be better Christians as well as a place for academic, social and "career" growth, then I recommend careful consideration of Catholic colleges and universities. While many fine non-Catholic institutions offer opportunities for spiritual development and even, occasionally, specifically Catholic formation, the primary mission of Catholic colleges is supposed to be students' growth in the faith which comes to us from the Apostles.
What I am suggesting is this: If you have a choice among several colleges and one of them is Catholic, let that college be your "default."
The good Catholic college provides not only academic excellence but a campus atmosphere in which love of the faith is evident in classes, in clubs, at social and sporting events, and, of course, in broad opportunities for Mass, the sacraments and learning about Catholicism.
Summer is often the time parents and students explore colleges by traveling to different campuses. I will "name some names." These suggestions come directly from my experience on these campuses or, indirectly, from knowing faculty or students at them. For all majors (including engineering), I recommend the Catholic University of America (Washington, D.C.). Other excellent institutions include Providence College (R.I.), the Thomas More College of Liberal Arts (N.H.), Franciscan University (Ohio), Christendom College (Va.), the University of St. Thomas (one in Minnesota and the other in Texas), the University of Dallas (Texas), Thomas Aquinas College (Calif.), and our own Belmont Abbey College.
I have omitted some colleges which would be on other such lists because I have no knowledge of them or have never been there.
it is important to visit the campus before making your choice. A colleague of mine at a college where we were then teaching in Connecticut visited a Catholic college in New York that his high school-aged daughter was considering. Surprised that there was no crucifix in the college's chapel, my colleague asked the college chaplain (a priest) about the absence of the crucifix. "We don't want to offend anyone" was the stunning reply of the Catholic priest, in the Catholic chapel, at this supposedly Catholic college.
In visiting a campus, try to meet as many faculty members as possible (especially in the major you may choose), and be sure to obtain specific information of some of the courses in your major. You might enlist the aid of high school teachers and counselors, as well.
A good Catholic college will nourish your mind – and, even more importantly, your soul. For as Proverbs says, "Your education is your life – guard it well."
Deacon James H. Toner, Ph.D., serves at Our Lady of Grace Church in Greensboro.
1
2
3
4
5
6
7
8
9
10
11
12
13
14
15
16
17
18
19
20
LETTERS FROM OUR READERS
Warrior saints are found throughout history

Regarding the April 26 letter criticizing St. Nicholas of Flue, I am disgusted that an American would insinuate that a soldier who distinguishes himself or herself in combat is not following...

Who would be worthy?

In a letter in the April 26 Catholic News Herald, St. Nicholas of Flue was referred to as someone who "did not follow those teachings" of Christ because he defended the faith with his sword and...
1
2
3
4
5
6
7
8
9
10
11
12
Read and listen to homilies posted regularly by pastors at parishes within the Diocese of Charlotte: