Viewpoints
To NFP or not to NFP? That is the question for married couples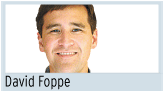 My wife and I have been promoting Natural Family Planning (NFP) for more than eight years through the Couple to Couple League. Before God knit us in the womb, He planned for us to promote NFP. In living out His plan, I have learned to segue many a conversation to the goodness of NFP. It is this goodness that married couples experience when they choose to use NFP. However, it is just a small foretaste of the ultimate goodness that awaits us in heaven.
You now know how my wife and I have answered the question that entitles this article. However, this is not an article contrasting NFP to the intrinsic evil of contraception. I have known many couples who fervently adhere to the Church's teachings on sexuality. Usually within two minutes, they know I am a promoter of NFP. Sometimes I would get a reply catching me off-guard, such as: "I know the pope teaches that is OK, but we trust in God's providence," or "we have chosen the greater of the two goods." Let me first say that I am grateful and appreciate the candor in which these persons, whom I greatly admire, have expressed their resolve to "seek first the kingdom of God."
However, these comments illustrate misconceptions about NFP made not only by our culture but also by our own brothers and sisters in Christ.
NFP is not outside God's providence. In his encyclical "Humanae Vitae," Pope Paul VI states: "Married persons are the free and responsible collaborators of God the Creator" for the most serious duty of transmitting human life. NFP wedges opportunities in this very busy culture we live in to collaborate with God the Creator on the specific plan He has for each married couple.
NFP encourages these opportunities because ingrained in the practice of NFP is a period of abstinence either during the woman's fertile or infertile phase of her ovulation cycle. It goes unsaid that this abstinence comes about by conditioning the will over what is instinctual. As Dr. Janet E. Smith says, this abstinence steers the couple to ask the questions: "Why are we or why are we not having babies?" and "Is this what God wants of us?"
I once had a priest share with me his reservations about promoting NFP: "I want married couples to have large families. It is not good for the Church that so many married couples are having small families by using contraceptives or NFP." I reassured him that one of the beauties of NFP is that if a couple is not wanting children for selfish reasons they are reminded of those reasons once a month and the NFP encourage the couple to listen to the voice of God within themselves.
Just as fasting from food brings about spiritual and physical fruits, the periodic fasting of the martial act also brings about spiritual and physical fruits. The discipline developed from periodic abstinence allows the spouse to love the other in a deeper and more beautiful way. Anyone can run the violin bow along the strings, but it takes discipline and practice to create the beautiful sounds for which the violin was created. The other spouse who is loved through this formed discipline is not the only beneficiary. The NFP couple becomes better conditioned to choose the good of their neighbor over worldly pleasures. In other words, NFP makes the couple better Christians, and the data supports this. Not only do studies show NFP couples to have less than a 1-percent divorce rate, but NFP couples are more likely to be better stewards in their parish.
Whether married couples choose to NFP or not NFP, let us all be a beacon of light to this misguided culture of relativism that makes contraception a mandated right towards "women's health."
David Foppe is a member of Our Lady of Grace Church in Greensboro.
Myths and facts about NFP
Myth: NFP is just another name for Rhythm.
Natural Family Planning (NFP) is an umbrella term for modern, healthy, scientifically accurate and reliable methods of family planning which have been in use for only some 25 years. It differs from "Rhythm" (or the Calendar Method). Rhythm tried to estimate the time of ovulation by calculating previous menstrual cycles. Although this approach had sound scientific underpinnings, in practice it often proved inaccurate because of the unique nature of each woman's menstrual cycle. NFP, by contrast, has been proven scientifically sound in both theory and practice.
NFP is based on scientific research about women's cycles of fertility. Since the 19th century, doctors have known about the changes in cervical mucus and its relation to fertility. In the 1920s, temperature rules were developed. However, it wasn't until the 1950s that an educational process was developed to teach the observation and interpretation of these fertility signs.
The NFP methods are: the Basal Body Temperature method, which monitors changes in a woman's temperature when she wakes up each morning; the Ovulation Method, which monitors changes in a woman's cervical mucus; and the Sympto-Thermal Method, which combines observations of temperature and cervical mucus with other indicators such as changes in the cervix and secondary fertility signs.
Myth: NFP can only be used by women with regular cycles.
The natural methods do not depend on having regular menstrual cycles; they treat each woman and each cycle as unique. NFP works with menstrual cycles of any length and any degree of irregularity. It can be used during breastfeeding, just before menopause, and in other special circumstances. NFP allows a woman to understand the physical signals her body gives her to tell her when she is most likely to become pregnant. Once she understands this information, she and her spouse can use it according to their family planning intentions.
The natural methods can be used throughout a woman's reproductive life.
Myth: NFP is too complicated for most people.
Anyone who is taught by a certified teacher and motivated to use NFP can do so. The methods are so simple that they have been successfully adapted to suit the needs of cultures all around the world. According to Kambic and Gray ("Human Reproduction," 1988), NFP use worldwide ranges from 1-35 percent in developing countries. These authors state that "NFP has a role as an important method of family planning in many countries, irrespective of religion, socioeconomic development, and overall level of contraceptive use."
Myth: NFP is not a reliable method of family planning.
When couples understand the methods and are motivated to follow them, NFP is up to 99 percent successful in spacing or limiting births. The effectiveness depends upon spouses' following the rules of the method according to their family planning intention.
— Source: U.S. Conference of Catholic Bishops.
To learn more, go to www.usccb.org or www.cssnc.org.
Read more in The Catholic View for Women blog
The fifth episode of "The Catholic View for Women" reminds the author of Dr. Janet Smith's popular talk "Contraception: Why Not?".
The reflection here offers compelling reasons for seriously considering Natural Family Planning. Read her blog at www.cssnc.org/nfpblog.
The online video episodes can be accessed at: www.thecatholicviewforwomen.com.
Upcoming NFP courses
Introduction courses to Natural Family Planning will be held Saturday, Sept. 8, at Holy Family in Clemmons; Saturday, Sept. 29, at St. Vincent de Paul in Charlotte; Saturday, Oct. 20, at St. Matthew in Charlotte; and Saturday, Nov. 10, at the Catholic Social Services office in Asheville.
For details, contact Natural Family Planning Program Director Batrice Adcock, MSN, RN, at 704-370-3230 or This email address is being protected from spambots. You need JavaScript enabled to view it. or go to www.cssnc.org.
1
2
3
4
5
6
7
8
9
10
11
12
13
14
15
16
17
18
19
20
LETTERS FROM OUR READERS
Warrior saints are found throughout history

Regarding the April 26 letter criticizing St. Nicholas of Flue, I am disgusted that an American would insinuate that a soldier who distinguishes himself or herself in combat is not following...

Who would be worthy?

In a letter in the April 26 Catholic News Herald, St. Nicholas of Flue was referred to as someone who "did not follow those teachings" of Christ because he defended the faith with his sword and...

St. Peregrine is a model to follow

I greatly admire the saints. The stories of youthful saints speak powerfully to me and never fail to captivate me; since I am 15, I can relate particularly to them. When I read the article about...
1
2
3
4
5
6
7
8
9
10
11
12
Read and listen to homilies posted regularly by pastors at parishes within the Diocese of Charlotte: