Viewpoints
Peggy Bowes: My heavenly biking partners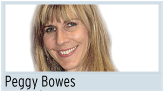 More than 20 years ago, my future husband introduced me to the sport of road biking, and it's been my favorite form of exercise ever since. I have biked thousands of miles, in all parts of the country, finding adventure, friendship and fitness along the way. I never guessed at the time that my bike would actually enhance my spiritual life.
I prefer to ride with my husband or a friend, but my commitments as wife, mother and freelance writer compel me to do most of my rides by myself. I often use the time alone to pray. I find that the combination of rhythmic pedaling and the beauty of nature really clears my mind, especially for meditation on the mysteries of the rosary.
My husband and friends worry about me riding alone, but they needn't because I have all kinds of heavenly protection. It all started a few years ago when I began to invite St. Christopher to accompany me on my rides to protect me and the travelers who shared the roads with me. Every time I narrowly avoided an accident, I knew that my heavenly protector was at work.
Later, I added St. Francis of Assisi as a biking partner after a scare with a country dog. I have since collided with a squirrel and a bulldog and had a near miss with a snake. Thanks to St. Francis, I never crashed and safely rode away from each encounter with nary a bump or bruise.
When I discovered that both Blessed John Paul II and Blessed Pier Giorgio were cyclists, I asked them to tag along. I pray that they will watch over my bike and prevent any malfunction and keep me from making any decisions that might endanger myself or others.
I wanted to add some female companionship, and found saintly athletes St. Gianna, St. Theresa of the Andes and St. Lidwina to join my entourage. Of course, it's a given that my constant companion, my guardian angel, is also part of my heavenly peloton.
As I ride the meandering country roads of Surry County, I pass many small cemeteries. They serve as a constant reminder to pray for the poor souls in purgatory. I've read that these souls are overjoyed to be asked to pray for others, so I invite them to join in the prayer intentions of my rosary workout.
I'm never lonely on these rides and can happily pedal for 30 miles or more, knowing that I am being protected from above. (Of course, I am still very careful and obey the rules of the road!)
I always return from these rides refreshed in both body and soul. I wish everyone could see this holy parade of angels, saints and souls floating behind my Fuji Supreme road bike. Then perhaps more people would take up cycling – or maybe more cyclists would start praying.
Peggy Bowes is a member of Holy Angels Church in Mount Airy and author of "The Rosary Workout."
1
2
3
4
5
6
7
8
9
10
11
12
13
14
15
16
17
18
19
20
LETTERS FROM OUR READERS
Warrior saints are found throughout history

Regarding the April 26 letter criticizing St. Nicholas of Flue, I am disgusted that an American would insinuate that a soldier who distinguishes himself or herself in combat is not following...

Who would be worthy?

In a letter in the April 26 Catholic News Herald, St. Nicholas of Flue was referred to as someone who "did not follow those teachings" of Christ because he defended the faith with his sword and...

St. Peregrine is a model to follow

I greatly admire the saints. The stories of youthful saints speak powerfully to me and never fail to captivate me; since I am 15, I can relate particularly to them. When I read the article about...
1
2
3
4
5
6
7
8
9
10
11
12
Read and listen to homilies posted regularly by pastors at parishes within the Diocese of Charlotte: