Viewpoints
A.J. Ohlhaut: Harry Potter books not harmless entertainment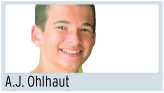 Seven books. For years, seven books have captivated the minds and imaginations of millions of young and old readers around the globe. These seven books, written in a masterful prose and touch, present an age-old struggle of good versus evil. These seven books have spread wildly, with millions of teens and young adults reading them or watching the films derived from them.
And since the day they were written, these seven books have been slowly manipulating and twisting the minds of its millions of readers, tainting them with magic, sorcery and evil.
These books go by the title of the Harry Potter series.
What's so wrong with them? They popularize black magic and satanic arts, and present the idea that magic exists and can be used to do good or evil.
"Harry Potter and the Paganization of Culture" by Micheal O'Brien takes an in-depth look at these books, pointing out their errors and evils. Through his reasoning and support from many other authors, including Pope Benedict XVI, O'Brien shows that the Harry Potter books are quite the opposite from harmless entertainment, but rather intrinsically evil and full of black seductions.
O'Brien extensively compares the Harry Potter series to the great fantasy epic "The Lord of the Rings," penned by the legendary Catholic author J.R.R. Tolkien. In "The Lord of the Rings," a hobbit named Frodo Baggins sets out to destroy the Ring of Power and thereby overthrow the Dark Lord Sauron. Aided and advised by the wizard Gandalf, Frodo struggles to fulfill the quest, and also to ignore the seductions of the Ring. Several times the Ring, acting much like our own tempter, tries to manipulate others to use its power to challenge the Dark Lord. But a wise elf declares that Sauron cannot be defeated that way: "If one of the Wise should, with this Ring, overthrow the Dark Lord of Mordor, he would set himself on Sauron's throne, and yet another Dark Lord would appear." The Ring, by tempting the bearer, is really pulling a trick to try and get back to its dark master: none other than Sauron himself.
The Ring itself represents sin. (To know why, and to understand the extensive symbolism in "The Lord of the Rings," listen to the CD "Joseph Pearce Unlocks the Lord of the Rings" – the Christian thought represented in this book is truly amazing). Sauron is, evidently, the devil himself. He cannot be overthrown with his own weapon of evil, but by destroying the weapon of evil, Sauron also will be destroyed.
That leads to another fault in Potter that O'Brien points out. In the books, both Harry and his enemy Voldemort use witchcraft – implying that evil can be defeated by black magic.
Harry and Voldemort use their powers to kill, maim and have a supernatural power over others, which is exactly what is condemned in the Catechism of the Catholic Church: "All practices of magic or sorcery, by which one attempts to tame occult powers, so as to place them at one's service and to have a supernatural power over others ... are gravely contrary to the virtue of religion. These practices are even more to be condemned when accompanied by the intention of harming someone..." (CCC 2117)
Potter uses the strength of another to work his spells and curses; he invokes something else to practice his magic. He must learn different ways to use witchcraft; it did not all appear naturally. He is called "warlock" and "wizard." His mentor at the magic school, Professor Dumbledore, is known by the title "Grand Sorcerer and Chief Warlock." Sorcerers and warlocks are people who use the powers of the satanic to work their spells and incantations.
The magic of Tolkien's wizard Gandalf, however, is different. O'Brien clarifies the difference: "While it is true that Gandalf, one of the central characters, is occasionally called a 'wizard,' he is not in fact a classical sorcerer. There are ranks of beings in Middle-earth, and the Istari (an order of beings like Gandalf) lie somewhere between angels and men. The term 'wizard' is one that the men of Middle-earth have projected upon the Istari, who are only superficially like the wizards in the Potter series ... similar to guardian angels but more incarnate." Gandalf has been given his powers by Iluvatar, the allegorical representation of God in Middle-earth. Iluvatar gave the Istari their powers so that they could contest the might of Sauron. Thus, Gandalf and the other "wizards" use their own powers to works spells and the like.
A similar idea is presented in "The Paganization of Culture," through the words of author John Andrew Murray. In a quote from the website www.familylifecenter.net that Murray contributes to, he reveals the relationship between power and authority both in Harry Potter and in C.S. Lewis' "The Chronicles of Narnia":
"That is the nature of all legitimate power – it is granted and guided by authority." (John 19:11: "You would have no power over me, unless it had been given you from above.") "When we read Rowling's series, we find that she effectively divorces power from authority. There is no sovereign person or principle governing the use of the supernatural. Magical power is gained through inheritance and learning. It is not granted by a higher authority, because there is no higher authority – at least none higher than Harry's mentor, Albus Dumbledore, and the evil Lord Voldemort. The two are equal, antagonistic and unaccountable to a higher authority.
"In C.S. Lewis' Narnia," Murray continues, "power and authority are welded together. That authority is Jesus, in the character of the great lion Aslan – creator and sovereign ruler of Narnia, son of the Emperor Beyond the Sea. Good power is power that is bestowed by Aslan and exercised in accordance with his will. This good power is at work when the children Peter, Susan and Lucy use gifts bestowed upon them by an agent of Aslan.
"Evil power, on the other hand, is power that is seized or conjured – rather than bestowed – and exercised for selfish ends. Those who resist the temptation to use such power are commended ... But those who wield it ... are eventually vanquished by Aslan."
According to the dictionary, "magic" and "sorcery" have different definitions. Magic is "the use of means (as charms or spells) believed to have supernatural power over natural forces." Sorcery is "the use of power gained from the assistance or control of evil spirits."
However, the Catechism groups them into the same category and condemns them as idolatry.
Sorcery and magic are not the only harmful aspect of the Potter series. Harry commits other sins. O'Brien points out: "But is Harry really all that good? He blackmails his uncle, blows up his aunt, uses trickery and deception, and 'breaks a hundred rules' (to quote the mildly censorious but ultimately approving Dumbledore). He frequently tells lies to get himself out of trouble, and lets himself be provoked into revenge against his student enemies..." Harry, the cultural icon of good and integrity, turns out to be not so very different from his enemy Voldemort.
Meanwhile, Frodo Baggins, the central character in "The Lord of the Rings," is seen as self-sacrificing his peace and happiness for the good of his world. At the end of the first book in the trilogy, "The Fellowship of the Ring," he shows his love and caring for his band of traveling companions by slipping away from them and continuing on the quest without them, so as not to pull them into danger.
Thus, in comparing Frodo to Harry, Frodo seems to come up on the side of the true good; not for himself, but for others. Meanwhile, Harry seems to be a representation of false good and "the ends justify the means."
Cardinal Josef Ratzinger, now Pope Benedict XVI, wrote about the books in 2003 to an author who had just published a book analyzing the evil of the Harry Potter series, even as the series' popularity skyrocketed. "Thank you very much for the instructive book," he wrote. "It is good that you enlighten people about Harry Potter, because those are subtle seductions, which act unnoticed and by this deeply distort Christianity in the soul, before it can grow properly."
In an interview with ZENIT Catholic news agency, O'Brien, the author of "Harry Potter and the Paganization of Culture," made a remark that we really should apply to any work of literature or cinema: "I am simply asking, do the Harry Potter books make it easier for children to reach Paradise, or more difficult?"
A.J. Ohlhaut is a parishioner of St. Ann Church in Charlotte.
1
2
3
4
5
6
7
8
9
10
11
12
13
14
15
16
17
18
19
20
LETTERS FROM OUR READERS
Warrior saints are found throughout history

Regarding the April 26 letter criticizing St. Nicholas of Flue, I am disgusted that an American would insinuate that a soldier who distinguishes himself or herself in combat is not following...

Who would be worthy?

In a letter in the April 26 Catholic News Herald, St. Nicholas of Flue was referred to as someone who "did not follow those teachings" of Christ because he defended the faith with his sword and...
1
2
3
4
5
6
7
8
9
10
11
12
Read and listen to homilies posted regularly by pastors at parishes within the Diocese of Charlotte: