Viewpoints
Deacon James Toner: The greatest lesson rarely taught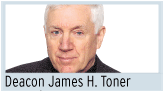 Not long ago, I was asked to give a men's retreat in another state. During one of the conferences, one man seemed puzzled when I referred to the natural law. Later, at a meal, he and I had an opportunity to discuss the subject at some length. Although he was a college graduate, he was unfamiliar with natural law, which "expresses the original moral sense which enables man to discern by reason the good and the evil, the truth and the lie" (Catechism of the Catholic Church 1954).
The Church squarely teaches that the natural moral law is written on our hearts (Romans 2:14-15; 2 Corinthians 3:3; Hebrews 10:16, 8:10; Jeremiah 31:33; Ezekiel 36:26). At the core of the natural law is the divine calling to do what is good and to avoid what is evil (see 1 Pt 3:11, 1 Thess 5:22 and Psalm 37:27), and we have the Ten Commandments as guides to lead us in the "paths of righteousness."
The Roman statesman Cicero (106-43 B.C.) wrote that the natural law is true, for it is "right reason ... (and it) is (unchanging) and eternal ... To replace it with a contrary law is a sacrilege" (CCC 1956).
When I teach, I often "stomp" on the floor as a signal to students that they will see this again – on the test! The natural law "provides the solid foundation on which man can build the structure of moral rules to guide his choices" (CCC 1959). Martin Luther King Jr., for example, referred to the natural law when, in 1963, he wrote his stirring "Letter from a Birmingham City Jail," in which he explained to fellow clergymen and to all Americans why he deplored segregation. We must obey just laws, he wrote, and we must disobey unjust laws. But how do we tell the one from the other? "A just law is a man-made code that squares with the moral law or the law of God. An unjust law is a code that is out of harmony with the moral law." He quoted St. Thomas Aquinas: "An unjust law is a law that is not rooted in eternal law or natural law." It's time to foot stomp.
High school students used to be generally familiar with "Antigone" by Sophocles (495-406 B.C.), in which Antigone decides to disobey the king because she must follow a higher law in the matter of burying her brother, to whom the king had refused burial after the brother had rebelled against the crown. Antigone recognized the natural law. The soldier "Bates" in Shakespeare's "Henry V," though, did not see the natural law when he said that "If his (the king's) cause be wrong, our obedience to the king wipes the crime of it out of us."
For nearly two decades I taught ethics to senior-grade military officers, and the essence of what I taught was rooted in the natural law. A soldier must disobey an illegal or immoral order. "I was just following orders" is not a legal excuse for doing evil; it certainly is not a moral excuse. "We must obey God," says St. Peter, "before men" (Acts 5:29; cf. Ex 1:17, Daniel 3:95).
I do not mean to imply that problems of conscience are always easily resolved. (See, for example, Blessed John Paul II's encyclical "Evangelium Vitae," 74.) We are called, though, always to form our conscience according to the Word of God (CCC 1802 and Psalm 119:43, 96, 105).
The keys to Catholic moral education lie in understanding, first, what Socrates taught – that an unexamined life is unworthy – and, second, in what Christ's Church teaches – that we must "examine our conscience before the Lord's Cross" (CCC 1785). We know in a seminal or elementary way right from wrong and good from evil. But that knowledge must be developed by a wise education (cf. CCC 1783), which does not end in the award of a diploma or a degree but continues throughout life.
Unless we know about the natural law and understand that there is authority well above and beyond that of the state or that of a higher-ranking officer, we will be morally at sea (see Eph 4:14, Hebrews 13:9), lost in a "dictatorship of relativism." "If there is no transcendent truth, in obedience to which man achieves his full identity, then there is no sure principle for guaranteeing just relations between people" (Blessed John Paul II, "Veritatis Splendor," 99).
If there is no natural law, then all we have as right moral guidance is the might of the group, of the gang, of the government. As Servant of God Archbishop Fulton Sheen once put it: "Right is still right if nobody is right, and wrong is still wrong if everybody is wrong." But the natural law does exist, and we are called to know it and to act as it counsels us – to serve as Christ's witnesses (CCC 2044) and, as members of His holy Church, to "show forth the kingship of Christ over all creation and in particular over human societies" (CCC 2105).
Deacon James H. Toner serves at Our Lady of Grace Church in Greensboro.
1
2
3
4
5
6
7
8
9
10
11
12
13
14
15
16
17
18
19
20
LETTERS FROM OUR READERS
Warrior saints are found throughout history

Regarding the April 26 letter criticizing St. Nicholas of Flue, I am disgusted that an American would insinuate that a soldier who distinguishes himself or herself in combat is not following...

Who would be worthy?

In a letter in the April 26 Catholic News Herald, St. Nicholas of Flue was referred to as someone who "did not follow those teachings" of Christ because he defended the faith with his sword and...

St. Peregrine is a model to follow

I greatly admire the saints. The stories of youthful saints speak powerfully to me and never fail to captivate me; since I am 15, I can relate particularly to them. When I read the article about...
1
2
3
4
5
6
7
8
9
10
11
12
Read and listen to homilies posted regularly by pastors at parishes within the Diocese of Charlotte: