Viewpoints
David Hains: The marriage amendment: Was it worth it?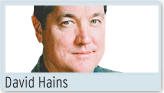 During the marriage amendment campaign, I had the privilege of representing our state's two bishops and Catholic Voice NC as I journeyed throughout the diocese explaining Church teaching about marriage.
I spoke at churches, both Catholic and Protestant, as well as schools, media outlets and community forums. For the most part I was welcomed by supporters and was listened to politely by opponents.
Anonymous online comments were a little more aggressive. I was called names including, "Bishop's henchman" and "simpering twister of words."
Millions were spent as anger fermented across the state. Was it all worth it? Back in December when the first poll was taken to measure North Carolinians' pulse on this issue, the level of support was roughly the same as it was on Election Day and the amendment passed with ease.
Since December, however, North Carolina has been portrayed in the media as a backward and discriminatory state.
Fighting a battle in the culture wars of America is the antithesis of what it means to be Church, and it is not fun. Our faith was in the center of this fight. We didn't start it, but we didn't shy away from our teaching that calls us to defend marriage.
My most vivid memory of the campaign was a blistering, one-way telephone conversation. The caller was absolutely livid at the support of the Church for the amendment. A lifelong Catholic, he said he was going to leave the Church and encourage others to do so. His pain was real and the hurt ran deep.
I was astonished that the good fight for the amendment could bring someone to a crossroad of rejecting Catholicism. Late in the campaign I started to ask myself, why are we here? I wasn't questioning the validity of Catholic teaching on traditional marriage. I am proud of the fact that our Church's teaching on marriage goes back to the Book of Genesis, and that it points to God's loving design for men and women.
My question was why this divisive fight had come to our state. Politics is the easy answer. But the political nature of the fight is a stumbling block to real understanding. Some may assume the Church is more Republican than Democrat because of her stance in defense of traditional marriage. But that assumption is wrong.
I have to listen to heartache and anger from Republicans whenever the bishops speak up in favor of a sensible federal immigration policy. The Church continues its wise political course that, depending on the issue, either confirms or challenges one's viewpoint.
Unfortunately, the real answer, I think, is fear. Both sides want to prevent a wrong. Supporters of the amendment fear that marriage, which we hold to be a sacred covenant established by God, could be redefined to mean just about anything.
Opponents fear that people who have same-sex attraction could be marginalized or mistreated – violating their inherent human dignity, which the Church also teaches is wrong. Acting on those fears, each side fights hard, which is to say they each land punches that hurt. The fight inevitably produces a winner and a loser. But with the polls closed, all of us, whether we are heterosexual or homosexual, need to figure out a way to live again in peace and dignity as brothers and sisters in Christ.
Early in the campaign I had a long conversation with my counterpart in the Minnesota campaign for marriage. The fight there is much longer and divisive, and the statewide amendment vote won't be held until November. He thought that, regardless of the outcome, we could be fighting the same issue in five or 10 years.
The Church, he said, needs to be more active in promoting the institution of marriage and protecting its critical role in society. Amen. One of my last campaign appearances was a community forum in Charlotte that brought together supporters and opponents. The only thing we could agree on is that people on both sides of this issue need to talk more. I will gladly trade conversation for campaigning any day.
The campaign brought me into contact with the pride and pain of people with same-sex attraction in the 21st century. In my lifetime I've listened to and laughed at jokes where a homosexual person was the object of mirth.
My campaign experience has wiped away a wicked smile while helping me also appreciate the people of good will who stood for marriage.
David Hains is the director of communications for the Diocese of Charlotte. He welcomes your comments to This email address is being protected from spambots. You need JavaScript enabled to view it. .
1
2
3
4
5
6
7
8
9
10
11
12
13
14
15
16
17
18
19
20
LETTERS FROM OUR READERS
Warrior saints are found throughout history

Regarding the April 26 letter criticizing St. Nicholas of Flue, I am disgusted that an American would insinuate that a soldier who distinguishes himself or herself in combat is not following...

Who would be worthy?

In a letter in the April 26 Catholic News Herald, St. Nicholas of Flue was referred to as someone who "did not follow those teachings" of Christ because he defended the faith with his sword and...

St. Peregrine is a model to follow

I greatly admire the saints. The stories of youthful saints speak powerfully to me and never fail to captivate me; since I am 15, I can relate particularly to them. When I read the article about...
1
2
3
4
5
6
7
8
9
10
11
12
Read and listen to homilies posted regularly by pastors at parishes within the Diocese of Charlotte: