Viewpoints
Robert M. Gallagher: Business owners have right to follow our consciences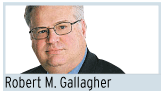 As the owner of a middle-market business and as a Catholic, I have been following news of the Obama Administration's Patient Protection and Affordable Care Act and the subsequent Health and Human Services mandate, which requires most health insurance plans to include coverage for contraception, sterilization and abortion-causing drugs.
The U.S. bishops have been fighting admirably against this mandate. It has been encouraging to see our bishops lead the fight for the protection of religious liberty for all Americans. It has like wise been encouraging to see them reject President Obama's so-called "compromise," in part for not covering all employers, and in part by recognizing that it was simply a play on words. What's the difference between forcing employers to buy health insurance plans that specifically itemize the morally objectionable services, and forcing the insurer to provide the same services but not itemize the coverage in certain plans? Nothing ... just dishonesty.
The administration's compromise was a classic bait-and-switch designed to give the president political cover from the unexpected firestorm that his mandate ignited. Thankfully, the bishops have not been fooled. I pray that their resolve does not weaken and that they continue to lead on this issue, for it is literally a matter of life and death.
Business owners have had state laws and federal regulations mandating contraceptive coverage in health insurance plans rammed down their throats for far too long. It has gone largely unnoticed and unchallenged by our political and religious leaders. Now the administration has taken such injustices to the next level, launching a federal assault on the free exercise of religion. Many state laws already require contraceptive coverage in health insurance plans, but the federal mandate goes even further, requiring coverage for drugs that are solely abortifacient in nature. It sets up contraception, sterilization and abortion-causing drugs as fundamental rights, and even attempts to supersede the First Amendment right to free exercise of religion for business owners whose faith teaches that such action is gravely wrong.
In its attack on religious liberty, the administration has dived head first down a slippery slope to denying other guaranteed rights. After religious liberty is attacked, what is next? Freedom of speech will surely follow. You need not be Catholic to be frightened by this abuse of power.
The president's compromise does nothing to safeguard the consciences of religious employers. Furthermore, it does not even purport to address the conscience concerns of business owners like myself, who oppose contraceptives, sterilization and abortion-causing drugs on religious grounds but are coerced into funding them.
I hope and pray that the Catholic bishops of the U.S. and other religious leaders will continue to fight this egregious affront to our religious liberty, but the fight must not be limited to religious institutions. It must include all men, women and employers whose religious beliefs would be infringed upon by participating in or sponsoring the services required under the mandate.
I am a Catholic, but that is not the point. I am a business owner, a citizen with constitutional rights. The only "compromise" that would protect the constitutional rights of employers, whether they be Catholic colleges and hospitals or business owners of any faith, is the freedom to purchase health insurance plans that do not, in any way, provide services in conflict with these religious beliefs. There is no middle ground.
The real issue here is not contraception, sterilization or abortion-causing drugs. It is the free exercise of religion as guaranteed by the First Amendment.
I, like countless other business owners, am a loyal citizen. I provide jobs and employ workers. I pay my taxes. I "render unto Caesar" what is his. But, like so many others, my conscience – my faith – belongs to God. It does not belong to Caesar ... or this administration.
The mandate, however, places employers who oppose the required services in an intolerable situation: Abandon your faith or abandon the health insurance plan your employees rely on.
My conscience is formed by the Catholic Church, which teaches that life is a good, that it is to be welcomed, not attacked, and that it begins at conception. It is my privilege and my right – under the First Amendment – to follow my conscience and the teachings of my faith in my personal and business life, as well as in the public square. The Obama administration, however, has sent a clear message: You may practice your religion ... as long as you do it in the catacombs.
Robert M. Gallagher is chairman and chief executive office of Good Will Publishers Inc. and Saint Benedict Press LLC in Charlotte.
1
2
3
4
5
6
7
8
9
10
11
12
13
14
15
16
17
18
19
20
LETTERS FROM OUR READERS
Warrior saints are found throughout history

Regarding the April 26 letter criticizing St. Nicholas of Flue, I am disgusted that an American would insinuate that a soldier who distinguishes himself or herself in combat is not following...

Who would be worthy?

In a letter in the April 26 Catholic News Herald, St. Nicholas of Flue was referred to as someone who "did not follow those teachings" of Christ because he defended the faith with his sword and...

St. Peregrine is a model to follow

I greatly admire the saints. The stories of youthful saints speak powerfully to me and never fail to captivate me; since I am 15, I can relate particularly to them. When I read the article about...
1
2
3
4
5
6
7
8
9
10
11
12
Read and listen to homilies posted regularly by pastors at parishes within the Diocese of Charlotte: