Viewpoints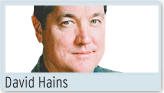 The latest deception from opponents of the upcoming statewide constitutional marriage amendment is the use of the expression "Amendment One." Like much of the rhetoric from the other side, this latest term is likely to confuse rather than inform the voting public.
The term "Amendment One" started appearing on signs and bumper stickers in late March. Apparently the long-winded and inaccurate previous reference, "the constitutional amendment to ban same-sex marriage," wouldn't fit on a yard sign.
The problem with the term "Amendment One" is that it doesn't exist. The ballot for the primary, produced by the N.C. Board of Elections, does not associate a number with the only amendment under consideration, which is the last item voters will see on the May 8 ballot.
So, it doesn't have a number and it's last, not first. So why would opponents of the marriage amendment use the term?
They don't share strategy with me. But my guess is that they are afraid of the word "marriage" and want to avoid using it. There is so much goodwill associated with that single word, so many hopes and dreams, so much happiness and, with children, a promising future. The word simply cannot be demonized or mocked.
Marriage pre-dates the state of North Carolina and even our 2,000-year-old Catholic faith. In His wisdom God created man and woman differently, and from that beautiful and loving difference comes the whole human race. Without it the Bible would end about halfway through the Book of Genesis. God knew what He was doing when he created Adam and Eve and the complementary natures of men and women.
I've yet to speak with an opponent of the marriage amendment who has an underlying philosophy or theology for their arguments that is as deep or as broad as natural law, Scripture, Church teaching and thousands of years of human experience in support of traditional marriage.
Without a logical argument for their opposition to marriage, the opponents have chosen to play word games. They substitute "Amendment One" for "Marriage Amendment" and – presto – people who support traditional marriage can now be miscast as bigots.
Sadly, even President Barack Obama has chosen to jump in to what essentially is a local event by declaring his opposition to the amendment. His re-election campaign office released a statement on March 20 saying, "While the president does not weigh in on every single ballot measure in every state, the record is clear that the President has long opposed divisive and discriminatory efforts to deny rights and benefits to same-sex couples."
Putting aside the fact that North Carolina's marriage amendment will not deny rights and benefits to anyone, the weakness of the president's argument is made clear when you realize that he couldn't bring himself to utter the word marriage.
David Hains is the Diocese of Charlotte's director of communication.
1
2
3
4
5
6
7
8
9
10
11
12
13
14
15
16
17
18
19
20
LETTERS FROM OUR READERS
Help available for Catholic veterans

Did you know there is something unique about being a Catholic veteran? Catholic War Veterans, USA, is one of the oldest veterans service organizations in the nation. It was founded in 1935 by...

We must turn back to God and uphold the truth

I do not understand the Catholic News Service article in the Oct. 9 edition of the Catholic News Herald, "Vatican says pope's meeting with Ky. clerk is not an endorsement." Of course the pope...

No woman need kill her baby

Abortion is the murder of a human being. No excuse or euphemism can change that. A baby in the womb is a separate person deserving of the right to life. He or she has separate DNA, a separate...
1
2
3
4
5
6
7
8
9
10
11
12
Read and listen to homilies posted regularly by pastors at parishes within the Diocese of Charlotte: