Viewpoints
Raleigh Bishop Michael Burbidge: Proclaim the sacredness of all human life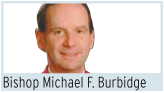 The following is the homily given by the Diocese of Raleigh Bishop Michael Burbidge during the Jan. 23 North Carolina Respect Life Mass at the Basilica Shrine of the Immaculate Conception:
Last week in North Carolina at the MLK Interfaith Prayer Breakfast, the keynote speaker was the Chief Executive Officer for AT&T. In her address, she referred frequently to the recent campaign initiative of her company: Rethink Possible. She used the phrase to help those gathered to imagine what the world would like if love prevailed and all people, without exception, were treated equally.
Dear friends in Christ, our gathering today at this magnificent Basilica Shrine and soon on the streets of our nation's capital reflects what we truly believe is possible:
It is possible to change the hearts of elected officials so that their decisions, actions and votes ensure a society in which all people are treated equally and never denied the right to be born and to live with dignity and respect.
It is possible to inflame a "culture of death" with the Gospel of Life through the enthusiastic, joyful and peaceful witness that we offer, especially as demonstrated through the thousands of youth present today. Dear young friends in Christ, Bishop Jugis and I are so very proud of you!
It is possible to help others understand and acknowledge that a miraculous event takes place at the moment of conception when a new, unrepeatable and irreplaceable human being comes to exist.
It is possible to overturn the horrific decision of Roe vs. Wade and to ensure that in our great nation abortion is illegal, inaccessible and impossible.
My brothers and sisters, we know the reasons for the hopes and prayers we share and we understand how they can become realities. They are rooted in the Truth, who is Jesus Christ. By His birth, the Son of God and the Son of Mary has made all human life sacred. By His suffering, death and resurrection, Jesus Christ has demonstrated the infinite worth and value of all persons. Thus, His mandate is that life from the moment of conception to natural death must be revered, defended and protected and that respect and dignity are shown to all of His people, especially the unborn, weak, vulnerable, the needy and those whose rights and freedom are violated.
My friends in Christ, we also understand how it is possible to transform society. As today's Gospel teaches, it can only occur with the amazing grace of God. We are merely the branches, the instruments. It is the Lord who is the true vine and through whom abundant fruit is produced. Yes, we must continue to advocate on behalf of the sacredness of human life. Yes, we must offer witness in the public arena. Yet, the greatest gift we give to the Pro-Life movement is our renewed commitment to heed the call of Saint Paul in our First Reading and remain a people who rejoice in hope and persevere in prayer, most especially as we allow ourselves to be enlightened by the Lord's word and nourished with His Holy Body and Blood. Our deep faith is demonstrated when we entrust all our work and endeavors to His divine providence through the intercession of Mary Our Mother, who most perfectly understood that all things are possible with God!
Through her intercession, we go forth from this Mass spiritually renewed and strengthened to help others Rethink Possible and to proclaim the sacredness of all human life in the Holy Name of Jesus, who lives and reigns forever and ever. Amen. 
To view video from the Mass, go to the Diocese of Raleigh's You Tube Channel. 
1
2
3
4
5
6
7
8
9
10
11
12
13
14
15
16
17
18
19
20
LETTERS FROM OUR READERS
Grateful for your support of retired religious

On behalf of more than 33,000 senior Catholic sisters, brothers, and religious order priests who benefit from the Retirement Fund for Religious, please accept my prayerful thanks for your diocese's...

Vatican II was indeed an event

Regarding the July 3 article "History professor speaks on 'Reforming a Challenged Church,'" it seems as though the attendees of this talk got a lot less history than one might expect from a history...

Remember our neighbors' grief

Two weeks ago I paid my respects by standing and praying outside Mother Emanuel A.M.E. Zion Church in Charleston, placing a bouquet of flowers on behalf of the people of Jacksonville, Florida's...
1
2
3
4
5
6
7
8
9
10
11
12
Read and listen to homilies posted regularly by pastors at parishes within the Diocese of Charlotte: