Viewpoints
Rev. Msgr. Mauricio West: Fight poverty in America; defend human dignity
Page 1 of 2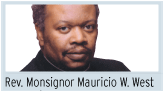 Dear Brothers and Sisters in Christ,
For more than 40 years, the Catholic Campaign for Human Development has stood with poor and low-income people, helping them create permanent solutions to poverty by funding a broad range of anti-poverty programs and economic development initiatives. Catholics across our country are part of this fight against poverty through the donations they offer in the annual CCHD collection, which will be held in our diocese on the weekend of Nov. 19 and 20. CCHD relies on the annual parish collection to fund anti-poverty programs in communities across the country.
The major portion of the CCHD collection is used by the national office of CCHD to support anti-poverty projects across the country. The remainder stays here in our diocese to fund grants that assist people in poverty and raise our awareness of poverty. CCHD grants have made a difference in our diocese. This past spring, for example, local CCHD grants totaling $38,574 helped families facing foreclosure, assisted pregnant mothers with needed services, and funded low-income housing and job development initiatives.
Here in North Carolina, the poverty rate has reached 16.2 percent and the number of children facing food insecurity is more than 27 percent. The statistics can mask the true gravity of the situation, that more than 46 million people in our nation and more than 1.5 million people in our state are living in poverty, according to 2010 U.S. Census data. Contemplating the extent of this economic pain can be numbing, yet the real pain felt by our brothers and sisters in need ought to be a spur to action.
We are challenged to respond in solidarity with our brothers and sisters in need, ... we must respond in solidarity, for the love of the poor is part of our Church's constant tradition (Catechism of the Catholic Church, 2444).
Please remember those who are poor in your daily prayers and consider how you might more actively enter into solidarity with their daily struggle to make ends meet. Perhaps your church has an outreach program or a food pantry that needs your help ... or perhaps you can volunteer with one of Catholic Social Services' food pantries in Asheville, Charlotte or Winston-Salem. Please also consider making a generous donation in the upcoming CCHD collection.
Let us pray that during these difficult economic times, we will commit ourselves ever more forcefully to the promotion of human dignity, especially among the poor and the vulnerable. May God bless you for your generosity.
Monsignor Mauricio W. West is the vicar general and chancellor of the Diocese of Charlotte.
1
2
3
4
5
6
7
8
9
10
11
12
13
14
15
16
17
18
19
20
LETTERS FROM OUR READERS
Warrior saints are found throughout history

Regarding the April 26 letter criticizing St. Nicholas of Flue, I am disgusted that an American would insinuate that a soldier who distinguishes himself or herself in combat is not following...

Who would be worthy?

In a letter in the April 26 Catholic News Herald, St. Nicholas of Flue was referred to as someone who "did not follow those teachings" of Christ because he defended the faith with his sword and...
1
2
3
4
5
6
7
8
9
10
11
12
Read and listen to homilies posted regularly by pastors at parishes within the Diocese of Charlotte: