Bishop Peter J. Jugis: We are grateful to our retired priests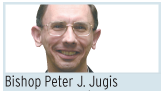 My dear friends in Christ,
Each year we are asked to respond generously and with grateful hearts to the priests who served us so faithfully for many years of ministry, through the annual diocesan collection to fund the priests' retirement and benefits plans.
Our 23 retired diocesan priests represent a total of 1,066 years of priestly service. These holy men average nearly 46 years of ministry. Many of our retired priests continue to serve the people of our diocese in their retirement. They visit the sick in nursing homes and hospitals. They go to our prisons, where they counsel the inmates. These men pray daily for the people of the diocese, offer Mass for the intentions of parishioners, and give of their time and talent to help with Sunday Masses and confessions in parishes throughout western North Carolina.
They gave years of faithful service, and it is now our turn to respond with gratitude.
The annual diocesan collection to fund the priests' retirement and benefits plans will be taken in all parishes on the weekend of Sept. 11. We will have an opportunity to show our appreciation for the many years of service our priests have given. Our goal for the priests' retirement and benefits plans for 2011-2012 is $1,494,000. In addition to the 23 retired diocesan priests, we currently have 108 priests serving the faithful of western North Carolina. Thirty of those are religious order priests for whom retirement contributions will also be made.
Please give prayerful consideration as to how you can show your gratitude to the many priests who serve the people of our diocese so faithfully, and I ask you especially to remember our retired priests in your daily prayers.
Bishop Peter J. Jugis serves the Diocese of Charlotte.
Coverage of the Revised Roman Missal
Print Roman Missal special section here

Print a free special section from the Catholic News Herald that follows all the changes to the Mass. This

special section

is designed to

Despite a few 'rough spots,' Catholics adapt to new missal translation

WASHINGTON, D.C. — Years of planning went into it, followed by catechesis over the past several months via workshops, classroom and video presentations, diocesan communiques, bishops' pastoral letters, parish bulletin inserts, and countless stories...
Discussing the Roman Missal changes
Louie Verrecchio: Preparing the way for the Roman Missal

When Pope Benedict XVI received a hardbound copy of the approved English translation of the Roman Missal from members of the Vox Clara Committee on April 28, 2010, he said, "Soon the fruits of your labors will be made available to English-speaking...

Louie Verrecchio: The scoop on Holy Mass

A couple of weeks ago a family friend (we'll call him John) took me by surprise with an unexpected question, "Do you mind if I go to church with you on Sunday?" Mind? Are you kidding me, I thought. I was thrilled! Then came the next question; one that...
Understanding the Mystery of the Mass