Operation Rice Bowl: Making a difference for our brothers and sisters in need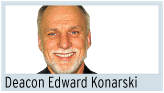 In his message for the 2012 World Day of Peace, Pope Benedict XVI calls for encouraging and educating young people in the work for "justice and peace." Through Catholic Relief Services' Operation Rice Bowl (ORB) Lenten program, Catholic parishes and schools across our nation provide an opportunity for families and young people to pray, learn and give in support of the humanitarian work of CRS. The CRS ORB program is an excellent way for families, parishes and schools to develop a greater awareness of global poverty and our Catholic call to promote justice and peace.
Catholic Relief Services is the official international humanitarian agency of the U.S. Catholic community. Founded in 1943 by the U.S. Catholic bishops, CRS alleviates suffering, provides disaster relief and rebuilding, and promotes economic development in more than 100 countries without regard to race, religion or nationality. As a Catholic and as an American, I am proud of the charitable response of CRS to many millions of people who struggle against poverty, disease and hunger. Working closely with our nation's Catholic bishops and the bishops of hundreds of dioceses around the world, CRS promotes a vision of justice and peace that rests upon the Church's vision of human dignity and human development.
In my long association with the work of CRS, it has been my pleasure to share the great work of CRS with my fellow Catholics here in the Diocese of Charlotte. I am now serving in my 15th year as a volunteer member of the Diocesan CRS Advisory Committee, coordinated by Catholic Social Services' Office of Justice and Peace. Our committee promotes the work of CRS in the diocese, encourages participation in CRS ORB, and helps distribute CRS ORB Mini-Grants to many hunger and poverty relief efforts throughout our diocese.
With Lent beginning on Ash Wednesday, Feb. 22, parishes and Catholic schools in our diocese and across our nation are preparing for the 2012 Operation Rice Bowl campaign. I support and participate in Operation Rice Bowl at my parish, St. Charles Borromeo in Morganton, where I serve as deacon. Since the fundamental motivating force behind all CRS activities is the Gospel of Jesus Christ, it is fitting that this year's theme is drawn from Matthew 25:35, "For I Was Hungry and You Gave Me Food." This Lenten campaign is an opportunity to fulfill our call to feed our brothers and sisters in Christ who are hungry.
Last year, 57 parishes and Catholic schools in our diocese participated in Operation Rice Bowl. Any parish or school that was expecting a 2012 shipment of ORB supplies and has not received it, or any parish that still would like to order free ORB supplies, should call CRS at 1-800-222-0025 or visit www.orb.crs.org. There's still time to order ORB materials for Lent.
Thank you for your support of CRS. Please join me in prayer for all people who suffer from poverty, hunger and disease, and please remember in prayer the work of CRS employees worldwide.
Deacon Edward A. Konarski is a permanent deacon at St. Charles Borromeo Church in Morganton, member of Catholic Social Services Board of Directors, and chair of the Diocesan CRS Advisory Committee.
Did you know?
Of each dollar sent by the Diocese of Charlotte to Catholic Relief Services, 95 percent goes directly to programs. CRS has received national recognition for its charitable efforts. The CRS website, www.crs.org, reports that the American Institute of Philanthropy, a charity watchdog group which evaluates the U.S.'s largest non-profits, has given CRS an A+ rating.
Lives of the Saints
1
2
3
4
5
6
7
8
9
10
11
12
13
14
15
Read and listen to homilies posted regularly by pastors at parishes within the Diocese of Charlotte: