Father Benjamin Roberts: 'This baby is going to change your life'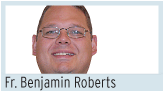 "O Holy night, the stars are brightly shining. It is the night of our dear Savior's birth. Long lay the world in sin and error pining, till he appeared and the soul felt its worth."
I am my parent's first child, born some nine days before Christmas, and nearly six years to the day after their wedding. I am told that on the day I was born, my father and all four grandparents gathered outside the hospital nursery trying to decide which of the little babies in the various cribs was the newest arrival to the family.
As my father and grandfathers were discussing what I would be named, and both of my grandmothers were discussing which medical school I would someday attend, my father's father, recognizing the dawning of a new generation, said to my dad, "This baby is going to change your life."
"This baby is going to change your life." These words apply to us as well. To you and to me, to the Blessed Virgin Mary and St. Joseph, to the shepherds, the magi, to the poor of the world and the rulers of peoples and nations, even to all of the animals of creation – "this baby is going to change your life" is spoken to them and to us.
Born in a stable, wrapped in swaddling clothes and laid in a manger, we recognize this child. The babe, the Son of Mary, whose coming was foretold by all the prophets, whose presence in the womb of Mary was heralded by John the Baptist, and whose birth was announced by choirs of angels and the hosts of heaven, is Christ the King. He is God-with-us.
He is God come among us. This baby, who cries in the darkness of the night, has come to us that He might join our voices to His in the ceaseless song of praise that is sung in the heavenly realms. This baby, the Word of the Father, now in flesh appearing, has come to us to reveal to us the love of the Father and reveal to us how very precious each of us is to Him.
For when He appeared our soul felt its worth, and this baby reminded us what was indeed from the beginning, that we were created in the image and likeness of God, called into being to share in a relationship of perfect love. When He grows in wisdom, age and grace, this Jesus will teach us, He will heal us, and He will call and equip us to be more like Him.
But today, this baby born for us offers His love to us, and we offer our love to Him. This baby is going to change our lives. O Come let us adore Him.
Father Benjamin A. Roberts is parochial vicar at Sacred Heart Church in Salisbury.
Lives of the Saints
1
2
3
4
5
6
7
8
9
10
11
12
13
14
15
Read and listen to homilies posted regularly by pastors at parishes within the Diocese of Charlotte: