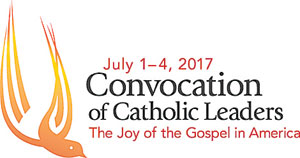 CHARLOTTE — Delegates from the Diocese of Charlotte are looking forward to attending "Convocation of Catholic Leaders: The Joy of the Gospel in America," a four-day evangelization conference that is being held at the directive of the U.S. Conference of Catholic Bishops.
The July 1-4 convocation in Orlando, Fla., is an invitation-only gathering featuring workshops, keynote addresses by national Catholic leaders, and time for prayer. More than 3,000 attendees from dioceses across the U.S. are expected to attend.
Bishop Peter Jugis selected the Charlotte diocese's delegates to attend the convocation: Dr. Gerard Carter, executive director of Catholic Charities Diocese of Charlotte; Joseph Purello, director of Catholic Charities' Social Concerns and Advocacy Office; Jessica Grabowski, diocesan Respect Life coordinator; Paul Kotlowski, diocesan director of Youth Ministry; Matthew Newsome of Campus Ministry; Father Pat Cahill, representing the Society for the Propagation of the Faith; Jim Kelley, representing the International Catholic Stewardship Council and David Hains, diocesan communication director.
"An inspiring list of speakers are scheduled to present, including Cardinal Timothy Dolan of New York, Bishop Robert Barron of Los Angeles, Catholic author Matthew Kelly and former Catholic Relief Services CEO Carolyn Woo. I think of these people as the best communicators in our faith, and I look forward to being inspired by what they say and then discerning how I can be of service to the Church," Hains said. He also said he looks forward to sharing the diocese's various communication efforts – including online and social media channels – with others.
For Newsome, the convocation's focus on Pope Francis' encyclical "The Joy of the Gospel" ("Evangelium Gaudii") ties specifically into his work with college students at Western Carolina University in Cullowhee.
"I see the students on our campus as falling into two groups: those who are already believers, and those who are not. In this way it is a microcosm of the world. As a campus minister, I am called to serve both groups, but a large part of what I do is help equip the former to go out and engage the latter. What I am hoping to bring back from this convocation are practical strategies for how this can best be done – it is always good to hear about what is working well in other places – but more than that, a renewed vigor for the New Evangelization that I can share with my co-workers and students."
Newsome said he also hopes to share best practices from the diocese's Campus Ministry efforts.
"We have a strong campus ministry program in our diocese that functions very much as a team," he said. "My understanding is that in most other dioceses, campus ministers tend to function more as individual agents on their campus. I'd like to share what has worked well for us here using a collegial model. It has practical advantages, allowing us to cover more campuses and provide students opportunities for retreats and service events that they may not otherwise have. More importantly, it gives our students a sense of belonging to the universal Church."
Kotlowski also said that he is interested in "gathering with the national Church and our own diocesan delegation at this unprecedented event to explore the implications of Pope Francis' challenges put forth in 'Joy of the Gospel,' and to work with Bishop Jugis and his team on whatever initiatives he sees fit for equipping missionary disciples in western North Carolina for the New Evangelization."
Michael Griffith, religious education director at St. Mark Church in Huntersville, is also attending the convocation representing the national Life Teen Ministry organization.
Meeting other Catholic leaders and discussing how well the diocese is doing at the primary mission of the Church – the salvation of souls – is what Griffith said he is looking forward to the most at the convocation.
"I think it's very telling that there is this desire to come together and really have an honest and open assessment of our evangelization efforts," he said. "It's certainly easy to take a stance that 'Oh, it's the parents that are the problem,' or place the blame somewhere else, when the Church has been tasked with going out to reach those people who do not have a relationship with Christ – or perhaps even basic knowledge of their faith.
"My goal is to really see how we can be better and do better in this regard. I've always been a firm believer that the Church does not need to change; it's the people who need to change. Of course, this then necessitates the Church at least adapting its evangelization efforts to hopefully and eventually bring about this change in the person."
Griffith adds, "I'm hoping, too, that we can really reflect on why we do what we do. Why do we teach CCD in the parish or religion in our Catholic schools? Is it simply to have students learn a basic set of prayers and information, or is it to form intentional disciples? If it's the latter, what are we doing to foster this? If we take some time and remember that at the center of catechesis is Christ, and the pur-pose of catechesis is to enter into a relationship with Christ, that should change how we approach discipleship."
— Patricia L. Guilfoyle, Editor
Watch live video from the conference below: