The Poor Clares: Souls should be adorned with virtue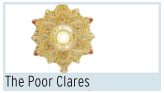 Beauty appeals to the deepest part of man and exalts him to higher realms than those that are simply natural and tangible. Anyone who has seen an exquisite piece of artwork, gazed at a breathtaking sunset, or listened to a magnificent symphonic concert has experienced the enticement of beauty that draws one out of self towards the transcendent. Far more glorious and captivating, though, is the human soul in the state of grace and adorned with virtues. Such a soul captivates the heart of God, understands the redemptive value of suffering, lives in deep joyful confidence, and affects people and situations around him or her.
In the Book of Judith, we find the incredible story of a woman whose beauty and wisdom confounded her enemies and saved God's people from a deadly plight. An intriguing account of heroism, it narrates the defeat of the Assyrians through the valor and ingenuity of this woman. Delving deeper into the story's spiritual meaning, we find that the heroine Judith embodies the virtuous soul.
First of all, take note of the key disposition which Judith possessed: purity of intention. Uzziah, the religious leader, said to her, "From the beginning of your life all the people have recognized your understanding, for your heart's disposition is right" (8:29). Jesus taught, "Blessed are the pure of heart, for they shall see God." Judith was capable of an acute sense of discernment because of purity of intention – that is, she sought the kingdom of God above all else.
Those who are pure of heart also have a keen awareness of God's hand in the midst of trials. Their spiritual vision pierces through the veil of pain and suffering to recognize Providence at work. They know that suffering produces endurance and endurance, character. Judith exhorted her people, "In spite of everything let us give thanks to the Lord our God, who is putting us to the test as He did with Abraham, and how He tested Isaac, and what happened to Jacob ... the Lord scourges those who draw near to Him, in order to admonish them" (8:25-27).
Such forbearance in suffering gradually chisels away at the heart's tough spots and makes it pliable. It is in the crucible of the Cross that one truly discovers who she is as a creature of God. She recognizes her finiteness just as Judith did, but such self-knowledge does not lead her into despair. Rather, she humbly, but confidently, finds her strength in God. Judith addressed her prayer, "For thy power depends not upon numbers, nor thy might upon men of strength; for thou art God of the lowly, helper of the oppressed, upholder of the weak, protector of the forlorn, savior of those without hope" (9:11).
Suffering apart from God brings hopelessness and misery, but humble submission to suffering in loving abandonment to God's plan transforms the soul and fills her with unspeakable joy. The closer a soul is to God, the more joyful and the more humble she will become. These gems of truth are also hidden within Judith, for on preparation for her mission, the virtuous woman packed a bottle of wine and a flask of oil, symbols of joy and humility.
Interestingly, Judith's virtues can be grouped into two types: those which she made the effort to embrace, and those which God bestowed upon her as a share of His own goodness. Notice how she anointed herself with ointment and dressed in her finest apparel. This points to the endeavors each person must make to acquire virtuous habits.
The Vulgate adds, "The Lord gave her more beauty: because all this dressing-up did not proceed from sensuality, but from virtue: and therefore the Lord increased her beauty, so that she appeared to all men's eyes incomparably lovely" (10:4). The mystical masters, like St. John of the Cross, teach that in the spiritual life, there will be activity on our part, as well as passive times. He described these passive states as those in which "God Himself is preparing and disposing the soul for divine union."
Finally, Judith's virtue affected the people and situations around her. Her enemies "marveled at her beauty" (10:23), and the Israelites rejoiced at the victory over the Assyrians. When we encounter holy and virtuous people, we desire to remain in their presence, and we often find that they have influence over those around them.
For those seeking to live deeply spiritual lives, may Judith be an inspiring example of purity of heart, trust in Divine Providence, forbearance in suffering, and joy and cooperation with grace.
Sister Mary Raphael of the Divine Physician is professed with the Poor Clare Nuns of Perpetual Adoration St. Joseph Monastery in Charlotte. This is part of a monthly commentary by the Poor Clares to focus on topics of faith and to address questions about religious life. Learn more about the community and subscribe to their newsletter by going online to www.stjosephmonastery.com.