Deacon James Toner: Letter from an executed bishop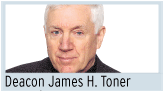 Dec. 29, 2032
My friends in Christ:
This morning – in an hour or so – I will be executed by public hanging for "crimes against the state." As you may know, I am guilty of the offense. I called for a national day of repentance – an act of "treason" – and then prayed in public, so I will now suffer the death penalty as an enemy of the people.
You who are temporarily "safe" in the Catholic compound in northern Arizona must keep the flame of the faith burning, and part of your duty is to keep records of how we came to this ... tragedy.
At first, we thought it trivial that our children could not pray in public schools. It was insignificant, we thought, that Christmas became the "winter solstice" and scenes of the Holy Family were banned from the public square. Some of our fellow Catholics, after all, avidly supported these things.
We were too slow to recognize that the poison put out by Hollywood was entering the minds and hearts and souls of, well, all of us. Hollywood festivals were little more than pornography on parade; modesty was out of style but vile language was practically the norm. Rampant sexual activity ruled the day, and condoms were routinely distributed in and by schools to students as young as third-graders. Anything became permissible on the Internet and in movies and TV, and we sheepishly went along. Music, manners, dress, language – all became the enemies of Christian living and of traditional morals. We morally lost so many children! Some of our fellow Catholics, however, avidly supported these things.
We Catholics were regarded, as these things unfolded, first, as hopelessly old-fashioned, and then, after a while, as enemies of progress – especially in science. In-vitro fertilization became common; cloning was banned initially, but when some discovered that there was money to be made, cloning became acceptable and then popular. When the government announced that Catholic hospitals and schools would have to pay, directly or indirectly, for abortion, contraception and sterilization, we tried to fight it, but we were, well, out of practice in supporting God over men. Any public expression of religious faith was banned as contrary to the common good and contrary to the new national mottoes of "From One, Many!" and "In Us, We Trust!" We were stunned when the courts caved in on the matter of religious liberty. But some of our fellow Catholics avidly supported these things.
Soon homeschooling became "suspect." It was called divisive, and it was repressed. Catholic schools, you will recall, were also taken over by the state, all in the interest of the "general welfare." In protest, we closed good Catholic colleges and hospitals, but it was an empty gesture. They, too, were taken over by the "People's Workers." In 2024 and after, our children, when they turned 8, were taken from their parents to "live and learn" in government schools. The parents who resisted were also taken away and not seen again. The government regarded the Catholic press as a violation of church and state because their publications were not restricted to licensed Catholics. (Remember that in 2022 we had to get licenses to be Catholics.) Marriage in Church was no longer permitted, but we were assured that we could at least bless marriages later. Same-sex "marriage" became common, but by 2025, the country was polygamous anyway, and now up to four people can be married at one time to each other. We couldn't protest at the pulpit. Our priests and deacons had to submit the texts of their homilies for government approval four weeks before delivery, and any unapproved homilies or comments at Mass were called "hate speech." Of course, no military chaplains were permitted any more. Meanwhile, the State provided "happy drugs" free of charge – "your tax dollars at work," we heard. Some of our fellow Catholics avidly supported these things.
We tried to fight when the State said that all Americans would now be euthanized at age 72 because their lives had become "meaningless," and medicine was too expensive. We tried to fight infanticide (which became a routine option for parents and their children up to age 3), but the abortion precedent was too strong. Disabled children, you remember, were subject to euthanasia until age 8 by the "Mercy Act of 2023." The economy continued downhill, so Americans were not allowed to have more than one child per family. Women pregnant with a second child were forced to have abortions. We thought what was happening in China would never happen here. Some of our fellow Catholics avidly supported these things.
So when I pleaded for national repentance and offered prayers in public, I was seized by the HHS police, tried and sentenced to death. There are now rumors of a civil war between the HHS Secular Citizens' Army and the Islamic Resistance Forces. No one can predict what will happen.
I guess no one knows who was responsible for the series of attacks on the Vatican which led to its tragic destruction. The decision to re-locate the Church to Hippo in North Africa and the recent election of Pope Augustine is a signal that the Church will endure – this, we know (Mt 16:18). I have to stop now ... the guards are coming for me.
— Bishop Thomas Becket of Monson, Mass.
Bishop Becket was executed on Dec. 29, 2032. Just before the hanging, he was heard forgiving his executioners and then shouting "Viva Christo Rey!"
Deacon James H. Toner serves at Our Lady of Grace Church in Greensboro.