Sandy Buck: Pro-life advocacy must assert value of the most vulnerable unborn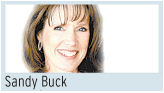 There is nothing extraordinary about my story. Most accounts of parents receiving a poor prenatal diagnosis sound something like, "The ultrasound technician became very quiet as she intently studied the screen. She then abruptly rose from her seat and hurried from the room. She returned with the doctor. As he looked at the images, he used phrases such as 'anomaly,' 'heart defect' and 'Trisomy.' We were then ushered into the genetics counselor's office, where we were introduced to the terms 'incompatible with life' and 'interruption of pregnancy.'" Though the stories are similar, it's different when it's your baby. I was 20 weeks pregnant and expecting a happy ultrasound and some pictures for the refrigerator.
Much of that week was a blur, but so many moments remain crystal clear to me – even now. I always trusted my medical providers, but now they were telling me to kill my son and becoming obviously frustrated by my refusal to do so. They were the experts. I was a naïve, hormonal woman who just didn't get it.
It's been said that a truly pro-life woman would never consent to an amniocentesis. But I was so angry about the things being said about my precious baby that I wanted to prove them wrong, so I allowed the test.
Sadly, the amniocentesis confirmed that my son had a chromosomal anomaly called Trisomy 18. According to the genetics counselor, my only "treatment" option was termination of the pregnancy, which again I refused. She dismissed me saying, "You're on your own."
Those words would become the defining statement of my pregnancy.
I remember thinking, "Now what?" My baby was still kicking. I had no information; no one to talk to who had experienced this before; no guidebook of "What to Expect When You're Expecting a Baby with a Lethal Diagnosis." No hope. My husband and I were devastated, and we struggled with how to handle it.
If we told people about the issue, what would we say? Most people in these situations don't know what to say, so they either avoid you or say something inadvertently hurtful. We thought it best to limit our news to family and close friends. We really were on our own.
Looking back, I regret that in our effort to protect others from the sadness of our news, we missed the opportunity to celebrate our son's life. We were so shocked and numb, it never occurred to us that this was our only chance to capture meaningful memories of him as a member of our family. We muddled through the next eight weeks in fear and sadness.
Casey Joseph was born on Memorial Day. I labored through the night, trying to be strong but the whole time silently praying and hoping that this was all a big mistake and he would be OK.
In my mind, I can still hear the silence of his arrival, and it still makes me cry to recall it.
Ten years later, with a better perspective, I recognize what was missing from my own experience. Now, with my Be Not Afraid co-founder and a team of peer ministers and volunteers, I can provide the response that parents need when the diagnosis is fresh and the grief is raw. We journey with parents and provide practical guidance as they seek to parent their children to the best of their abilities.
Although the majority of poor prenatal diagnosis stories may begin very similarly, the more distressing fact is that 80 percent of women who receive this sad news will terminate their pregnancies. Pro-life women are having abortions – not at an abortion clinic, but in the hospital. The pressure is intense and the language is confusing.
Pro-life women are having abortions because no one is offering them an alternative.
We recognize that every human person – regardless of potential or disability – has dignity as a creation of God. But we as Catholics are called to something more. Our pro-life advocacy must always assert the value of the lives of the most vulnerable unborn. We are called to be the hands of Christ and reach out to those who suffer. Dignity is only realized in the context of our relationships with others.
Studies indicate that most parents are looking for someone to affirm the dignity of their child and to offer an option that promises the comfort of support in the experience of carrying to term. They want a Catholic response to prenatal diagnosis and a chance to do something other than follow the only path often presented to them by the medical community. Whereas 80 percent of mothers terminate their pregnancies following the news of a poor prenatal diagnosis, when offered a service of comprehensive care and support like that offered by Be Not Afraid, 80 percent of them will in fact choose to carry their babies to term.
As we stand up and march for life, we must not forget these babies. We need a different approach to save them. We need to create a loving community of friendship around their parents and journey with them, offering the assurance that they are not on their own.
Sandy Buck is the co-founder of Be Not Afraid of Charlotte, a support service for parents carrying to term following a poor prenatal diagnosis. BNA is currently being replicated in four other dioceses across the U.S. For more information, email This email address is being protected from spambots. You need JavaScript enabled to view it. or call 704-948-4587.