Deacon Toner: Freedom comes from obediently living the truth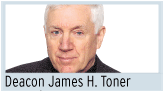 In one of her novels, Ayn Rand has one of her characters say that the only sacred word is "ego." Catholics, by contrast, would point to a different word – a sacred name (see Philippians 2:7).
What is the principal cause of sin and evil? There is room for discussion, of course, but I would nominate the ideology to which Ayn Rand and so very many others have been devoted throughout the centuries: selfishness, a noun having many synonyms: autonomy, pride, vanity and worldliness.
Proverbs tells us to "trust in the Lord with all your heart, and do not rely on your own insight" (3:5). But the egotist in us may think that, despite the settled teaching of the Church, certain favorite personal preferences, political projects, bioethical experiments or sacramental improvisations are desirable.
We hear, especially from dissident theologians, that we must be modern and progressive, that we must be "with the times," that we must be innovative. Everything changes, the dissidents tell us, and, after all, we do not want to be thought of as old-fashioned.
Everything, though, doesn't change. Jesus does not change (Heb 13:8); truth does not change; human nature does not change. We are called upon to grow in our understanding of, and commitment to, what is Eternally Right, not just socially right (see CCC 1888) or personally convenient (2 Tim 4:1-5). The New American Bible, which we use at Holy Mass, gives us this translation of 2 John 9: "Anyone who is so 'progressive' as not to remain in the teaching of Christ does not have God; whoever remains in the teaching has the Father and Son."
It was a saint who wisely warned us, on Sept. 8, 1907, about "blind and unchecked passion for novelty." And the great French Catholic writer Charles Peguy similarly told us that "It will never be known what acts of cowardice have been motivated by the fear of not looking sufficiently progressive." Today, of course, we would substitute "cool" for "progressive."
As Catholics we owe – and here comes the noun we hear so little of today – obedience to the Magisterium of the Church, which exists "to preserve God's people from deviations and defections and to guarantee them the objective possibility of professing the true faith without error" (CCC 890; cf. 1269, 2039 and 2420).
Suppose, though, that I find Church teaching insufficiently modern, progressive and liberating? Well, then I can invent my own theology, my own liturgy, my own social justice: I can be my own magisterium.
Having taught philosophy for many years, I think the most misunderstood word (next to "obedience" – which actually refers to "giving ear" and thus reminds us of our Lord's admonition found in Mt 11:15) is "freedom." We are truly free when we do what we ought to do (cf. 1 Peter 2:16) – not merely what we want to do. The Swiss theologian and priest Hans Urs von Balthasar once put it this way: "Only those who follow the Church have a sure guarantee for the fact that, in their obedience to Christ, they have not really followed just their own know-it-all wisdom."
Freedom comes from following Christ and His Church, not from a parallel or personal "magisterium" which permits us to call true what is false or good what is evil or virtuous what is vicious – such as self-styled Catholics who champion abortion. There is a reason that the First Commandment is first, for the temptation to which we are all heir is our tendency to do what pleases us and then to call it holy.
We become and remain Catholic for many reasons. G.K. Chesterton said that he became Catholic, principally, "to get rid of my sins" and, secondly, by following the Church's teaching, to think more clearly. If and when someone says that the Church is insufficiently modern, or that the bishops are wrong in their collective teaching, or that the Catechism is too restrictive, recall the powerful pericope found in the Gospel according to John: Jesus tells the Apostles, whose successors the bishops are, that the Holy Spirit "will guide you into all truth" (16:13; cf. 14:26; CCC 88, 243, 729 and 2466). And recall that "Where Peter – the Holy Father – is, there is the Church."
Something is not true because the Church teaches it; the Church, of whom Christ is the head (Col 1:18, Eph 1:23), teaches it because it is true. Thanks be to God!
In answer to Ayn Rand and to dissident theologians, consider Blessed John Henry Newman: "Quarry the granite rock with razors, or moor the vessel with a thread of silk; then may you hope with such keen and delicate instruments as human knowledge and human reason to contend against those giants, the passion and pride of man."
Deacon James H. Toner serves at Our Lady of Grace Church in Greensboro.
1
2
3
4
5
6
7
8
9
10
11
12
13
14
15
16
17
18
19
20
21
22
23
24
25
26
27
28
29
30
31
32
33
34
35
36
37
38
39
40
41
42
43
44
45
46
47
48
49
50
51
52
53
54
55
56
57
58
59
CatholicNewsHerald
CatholicNewsCLT
Last 3 tweets from CatholicNewsCLT:
Read and listen to homilies posted regularly by pastors at parishes within the Diocese of Charlotte: