Poor Clares: Gardening lessons from a mother's heart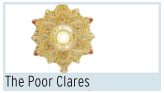 Quite appropriately we celebrate Mother's Day in the spring, when nature itself reflects the joy and beauty of new life. Here at St. Joseph Monastery, spring brings with it lots of satisfying recreation in the garden, as well as hands-on lessons from our spiritual mother, our abbess. From planting flower seeds to digging out unwelcome weeds, Reverend Mother Dolores Marie has used the lessons of nature to nurture the garden of our souls toward a fruitful harvest of virtue.
When Reverend Mother presented some packages of flower seeds to us early this season, we sisters could hardly wait to start planting. Amazed at their diminutive sizes and dull colors, it was hard to believe that one day they would produce attractive and beautiful flowers in abundance.
Our marveling led to lesson number one: Isn't it astounding that a child, whose soul was created by God in his or her mother's womb, has the incredible potential to grow and develop into a mature Christian, and even into a saint? If we only grasped the profound degree of holiness we are capable of reaching with God's graces, we would be overwhelmed. That tiny little seed planted into the earth's soil should be a continual reminder of hope that, though we may be far from holiness in our faith journey right now, if we nurture our spiritual lives in the proper elements, we too can grow into those spiritual giants called saints.
As we planted our tiny, unattractive seeds in the moist soil, it was obvious that their concealment in the ground pointed to a fundamental environment for developing a fertile garden of virtue within the soul.
Lesson number two: The saints – from the simple ones to the greatest mystics – could not stress enough the importance of humility for drawing close to God. Interestingly, humility comes from the Latin word "humus," which means earth. To advance in the life of virtue, we must stay close to the ground, hidden in meekness and lowliness, because humility possesses the nutrients necessary for us to know self and to know God in truth. Though we think of soil as dirty and humbling experiences as unpleasant, without them neither the seed of a plant nor the seed of virtue will be able to germinate and plant deep roots.
Now while our flower seeds have been germinating and digging their roots deeply into the earth, our attention was recently drawn toward other unwelcome plant life around the monastery. This past week Reverend Mother asked us to uproot a cluster of ivy that was overrunning an outside wall of the building. Donned in an apron and with shovel in hand, I marched with determination to attack the invasive greenery. Half an hour later, with sweat trickling down my neck and skin scraped off my hand, I realized that roots dig very deeply and can grow thickly. I had to resist the temptation to simply remove the lightly rooted vines on the surface, while leaving the thick roots hidden in the ground. Leaving the roots meant the vine would soon reappear on the wall in the very near future.
Lesson number three: In the spiritual life, bad roots or habits cling strongly to us. If we don't examine ourselves and make efforts to find the roots of our vices, we will continue to spin in circles in a frustrating pursuit for virtue, puzzled as to why we are not making progress. It takes continual determination, fortified perseverance, and the grace of the Master Gardener to help us uproot those weeds in our lives that threaten to choke out the true flowers.
Finally, while we eagerly await the growth of our blossoms, we have been grateful for the beautiful weather God has sent because without the sun, despite all of our efforts, nothing would grow. One day after Reverend Mother had moved our various pots into a sunnier section of the courtyard, I recalled another lesson my own mother taught me growing up. Lesson number four: We need to place ourselves often in the presence of the Son of God in the Most Blessed Sacrament, for grace to continue to grow in our lives. Mom made a point of regularly taking us kids to Eucharistic Adoration, and when we were out of sorts, she wisely remarked, "My flowers are wilting today. Time to sit in front of the Son!" It is in His presence that the Master Gardener tills our souls, prunes our imperfections, and reaps the fruit of a life in union with Him.
Our community gardening this spring has led me to take to heart not only Reverend Mother's gardening techniques, but her spiritual lessons as well. Cultivating a garden of virtue begins with the small seeds of goodwill, faith, hope and charity. Protected under the covering of genuine humility, these seeds germinate and take root in the soul. At the same time, we are required to work diligently and perseveringly to uproot bad vices and weeds of imperfections. Then, having offered our labors to the Master Gardener, we bask in His Presence and wait for Him to reap a harvest of good fruit.
Sister Mary Raphael of the Divine Physician is professed with the Poor Clare Nuns of Perpetual Adoration St. Joseph Monastery in Charlotte. This is part of a monthly commentary by the Poor Clares to focus on topics of faith and to address questions about religious life. Learn more about the community and subscribe to their newsletter by going online to www.stjosephmonastery.com.
1
2
3
4
5
6
7
8
9
10
11
12
13
14
15
16
17
18
19
20
21
22
23
24
25
26
27
28
29
30
31
32
33
34
35
36
37
38
39
40
41
42
43
44
45
46
47
48
49
50
51
52
53
54
55
56
57
58
59
CatholicNewsHerald
CatholicNewsCLT
Last 3 tweets from CatholicNewsCLT:
Read and listen to homilies posted regularly by pastors at parishes within the Diocese of Charlotte: