Gireesh Gupta: Prayer is a gift from God to us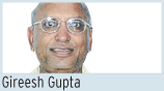 Prayer is a beautiful and polite way to talk to our Maker. Prayer is a way to cultivate our personal relationship and friendship with God. Prayer is the way to connect to God. Prayer is our direct link to God's Kingdom. Prayer is the quality time that we spend in the company of God to feel close to Him.
Prayer is also to praise and thank God for His beautiful creation and for His merciful protection of us. Prayer is to ask for God's blessings, guidance and direction to lead us on the right path and to be true to ourselves and to others. Prayer is a time to ask for God's forgiveness for our wrongdoings and plead for His mercy. Prayer inspires us to help those in need and brings us closer to God, because serving the needy is to serve God. Prayer cultivates the love of God's creation and helps us to be thankful. Prayer puts us on the path that leads us to our Creator.
God gave us the gift of prayer with many benefits in return. Prayer calms our minds in times of despair. Daily prayer helps us to focus on what's important each day amid all of our daily activities and tasks. Prayer brings relief from stress, pain, sorrow and anxiety. Prayer engenders peace in mind and body, and cultivates love for others and for God's creation. To forgive is divine, and it is the daily practice of prayer that brings out the divine in us and gives us the strength and will to forgive those who have hurt us. Prayer subdues our conceit and fosters humility. Prayer enables us to subjugate our material attachments and elevates our spirituality. Humility and spirituality are two important traits to foster in order to lead a life of contentment, gratitude, happiness and love.
Churches are the sacred and formal places of prayer for Christians, synagogues for Jews, mosques for Muslims, and temples for Hindus. Praying formally with a congregation in these places has the power of uniting people and fostering a community of brotherhood and sisterhood.
However, prayer can be offered at any time and in any place, as many times each day as we wish. We can pray briefly before getting up in the morning and before going to sleep, while working in the office, while doing chores around the house, and even while walking or jogging.
Some of us pray and plead for God's mercy only when we are needy, sad, fearful or sick. But God wants us to think of Him in a humble manner at all times, especially during the good times and not just the bad times. Just as parents love when their children share their happiness and not just their sadness, we should share our happiness with God our Father in prayer as well.
Our prayers may be simple or short, because praying from the heart is what is important. It is not important how long we pray for, or how formally we pray. A short prayer with a pure and innocent heart will win blessings, but a long prayer without heart is meaningless.
I encourage you to pray with a sincere heart and to pray often, to cultivate your personal relationship with God and seek closeness to Him.
Gireesh Gupta is an associate professor of computer information systems at Belmont Abbey College in Belmont.
Nuns get on the bus for immigration reform

CHARLOTTE — The nationwide "Nuns on the Bus" campaign by members of NETWORK, a Catholic social justice lobby led by Sister Simone Campbell, S.S.S., executive director, will stop in Charlotte Friday, May 31, to highlight the urgent need for...

Belmont parish hosts community shredding event

BELMONT — A Community Shredding Fundraising Event was held May 4, at Queen of the Apostles Church in Belmont. According to event organizer, parishioner George Burazer, the event had several aims: to provide people with a convenient way to...

Military Mass planned for July 7

CHARLOTTE — Bishop Peter J. Jugis will celebrate a Mass for U.S. military personnel at 3:30 p.m. Sunday, July 7, at St. Patrick Cathedral in Charlotte. The Mass and rosary (to be recited at 3 p.m.) will be offered for all military personnel...

Postcard from Kingston: My impressions of our parish mission trip to Jamaica

KINGSTON, Jamaica — I was feeding a young boy named Paul, who couldn't speak or use his limbs. He was sitting in a chair and I was in a child's chair beside him. As I began to feed him I could see his eyes following me, and it was at that...

'Yankee' turned Southern pastor reflects on 60 years as a priest

ALLEGANY, N.Y. — Sixty years ago on May 14, 1953, Monsignor Thomas Walsh was ordained to the priesthood at Our Lady of Grace Church in Greensboro. Just a few short years before, Monsignor Walsh didn't even know anything about North Carolina....

Renewing roots in charity

Learn about the new Catholic Charities Diocese of Charlotte Dear Brothers and Sisters in Christ, Since 2005 we have celebrated Catholic Social Services Week. Each year this week provides an opportunity for our parishioners to become more...

Charlotte seminarians graduate from Pontifical College Josephinum

COLUMBUS, Ohio — The second Saturday of May was a joyful day at the Pontifical College Josephinum, as the only pontifical seminary outside of Italy held its 114th baccalaureate Mass and commencement exercises. Diocese of Charlotte seminarians...

Photos: Honoring Mary, the Mother of God

WINSTON-SALEM — Students at St. Leo School in Winston-Salem celebrated Mary with a May crowning on May 10. (Photo provided by Donna Birkel) GREENSBORO — Our Lady...

Mecklenburg County Bar honors diocesan attorney

Lucey recognized for distinguished service to families CHARLOTTE — It's hard to surprise a seasoned attorney, but the Mecklenburg County Bar managed to pull off an unexpected award presentation for Diocese of Charlotte attorney Richard Lucey...

Monroe pastor leads pilgrimage to National Shrine of St. Dymphna

MONROE — On a blustery day in March, Father Benjamin Roberts made good on a promise made to St. Dymphna more than 14 years ago. Father Roberts, pastor of Our Lady of Lourdes Church in Monroe, boarded a charter bus with 52 pilgrims from North...

PHOTO GALLERY: Crowning Mary during Family Rosary Procession

CHARLOTTE — Patricia Jane (P.J.) Pickhardt crowns a statue of Our Lady of Fatima during the Family Rosary Procession sponsored by the Charlotte Catholic Women's Group on May 3 at St. Ann Church. Pickhardt, a parishioner at St. Ann Church,...
1
2
3
4
5
6
7
8
9
10
11
12
13
14
15
16
17
18
19
20
21
22
23
24
25
26
27
28
29
30
31
32
33
34
35
36
37
38
39
40
41
42
43
44
45
46
47
48
49
50
51
52
53
54
55
56
57
58
59
CatholicNewsHerald
CatholicNewsCLT
Last 3 tweets from CatholicNewsCLT:
Read and listen to homilies posted regularly by pastors at parishes within the Diocese of Charlotte: