Joseph Bruck: How to maintain the spirit of Lent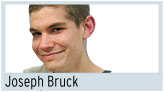 Lent: a time of continual penance, increased prayer and greater charity. Once again, this liturgical season is upon us. What does it cause us to think about?
For many people, it might be a sinking sense of dread: "What? Lent is here? But it seems like we just went through it! I guess I'd better start thinking about what to give up, but what else should I do to grow closer to God? And we only have to fast twice, right?"
Such thoughts might be common to many of us, in one way or another. But the question should be raised every year: what am I going to do for the next 40 days to grow in love and holiness?
Well, prayer is the first key ingredient.
If you do nothing else this Lent, pray! Spending a little extra time with Our Lord in the Blessed Sacrament is truly a joy like no other, and the grace that flows from a renewed prayerful outlook is immeasurable.
The sacraments, properly received, are also a great way to strengthen virtue, as well as faith. Consider going to confession and Holy Communion more often – you might just be surprised at the level of peace they bring.
Lent is also a time to refocus. We often get caught up with hectic schedules and the passing things of the world. During this special time, Christ calls us to redirect our hearts and minds more fully to Him, so we may become all that we are called to be. Giving up some of our favorite foods or activities, we can lay our voluntary sacrifices at the foot of the Cross, remembering Our Lord's strenuous retreat in the desert, which was undoubtedly much more painful than our little offerings.
Yet God understands our smallness and our weakness – He's not looking for a huge laundry list of penances, but rather for love.
Don't be discouraged if you sometimes find Lent to be worrisome or difficult. As Christians, we suffer along with Jesus in His saving Passion and death, but we also live in the hope of His glorious Resurrection.
Strive to love and serve God and others with this joy in your heart more and more each day. If we put our trust in Him who gave everything for us, we will not be disappointed.
May this Lenten season be a time of joyful penance and hopeful waiting for us all, and may the humble spirit of this season continue long after the glory of Easter morning.
Joseph Bruck is a parishioner of St. Patrick Cathedral in Charlotte.
1
2
3
4
5
6
7
8
9
10
11
12
13
14
15
16
17
18
19
20
21
22
23
24
25
26
27
28
29
30
31
32
33
34
35
36
37
38
39
40
41
42
43
44
45
46
47
48
49
50
51
52
53
54
55
56
57
58
59
60
CatholicNewsHerald
CatholicNewsCLT
Last 3 tweets from CatholicNewsCLT:
Read and listen to homilies posted regularly by pastors at parishes within the Diocese of Charlotte: