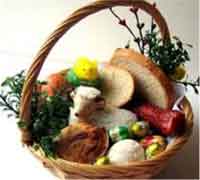 CHARLOTTE — Everyone is welcome to bring their Easter baskets to St. Thomas Aquinas Church on Holy Saturday, April 15, for a special blessing.
Also known as "The Blessing of the Easter Baskets" (or "Swieconka" in Polish), the blessing of Easter foods is an Eastern and Central European tradition that is growing in popularity among all Catholics.
The 30-minute blessing – which will be done in both English and Polish by Deacon James Witulski – will take place starting at noon in Aquinas Hall, located across the courtyard from the church at 1400 Suther Road in Charlotte.
Traditionally, Easter foods such as sausage, eggs, bread and butter in the shape of a lamb are brought to the church, neatly arranged in a basket. However, people are invited to use their imaginations and include their own national foods. Children can even bring their own baskets with their own treats, including chocolate and Easter candy.
Contact Deacon Witulski with any questions at 704-960-3704.
— Catholic News Herald