CHARLOTTE — Hundreds of drivers along Park Road are reminded just how valuable life is as they zoom past the "Cemetery of Innocents" in front of St. Vincent de Paul Church.
This year, the pro-life banners from the "Cemetery of Innocents" were stolen, according to Diane Hoefling, Respect Life Coordinator at the church.
This is the sixth time the pro-life display has been vandalized in its 22-year history.
"Cemetery of Innocents" is a pro-life exhibit in observance of the more than 4,000 unborn babies killed daily through abortion in the U.S. The parish's display is set up annually to coincide with the January 1973 anniversary of the U.S. Supreme Court's Roe v. Wade decision that legalized the killing of unborn children.
Last year, several white crosses that line the grass near signs that say "In memory of the unborn killed by abortion" and "Take my hand, not my life," were broken. Damage to the broken wooden crosses was estimated at $200.
In 2012, two banners which carried pro-life messages were torn. Other times, crosses have been removed, and signs and banners have been slashed or stolen.
The goal of the display is to remind passers-by of the tragic toll that abortion has taken on our nation and the city of Charlotte, as well as to educate and inspire others to defend human life and to help pregnant women in crisis. The display has generated calls from abortion-minded woman seeking help, some regretting a past abortion and other churches interested in doing their own pro-life displays.
"Admittedly, we disturb passers-by, but for the sake of saving lives. If we provoke, it is people conscious we hope to reach. In exposing a life or death truth, abortion-minded mothers might choose life, while we keep in mind the need for love and support for those who have been involved in a past abortion decision," Hoefling wrote to the Catholic News Herald.
"Destructive delinquents we can forgive, but we will not stop reminding everyone of this evil that has slaughtered over 62 million Innocents in America and 68 every day in North Carolina —the number of crosses we display. We are a complacent society in need of constant prodding to see the realism of abortion as murder. Our cemetery may be disturbing, but our message is one of Truth and Hope."
— Kimberly Bender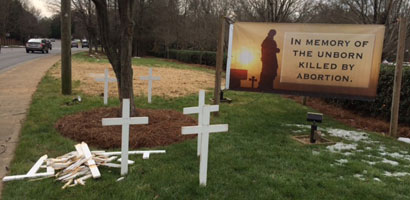 Photo from 2016 damage