Father Patrick Hoare: To be pro-life is to see no one as an enemy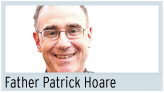 A few months ago, we had the opportunity as a parish to attend a screening of the film "October Baby." A beautiful young college student, Hannah, is burdened by a troubling medical history, including epilepsy, asthma and chronic depression. After a seizure, her doctor suggests that her medical history may be related to trauma she has suffered early in life. It is then that Hannah's parents reveal a secret – that Hannah was adopted after surviving a botched abortion attempt by her natural mother. Her body, and her spirit, still bear the gaping wounds of this violent act, and Hannah, in her pain and no doubt with some anger, begins a quest to find her birth mother, to confront her and ask why. Along the way, she must confront several people she views as the enemy: her adoptive parents, who have kept this secret from her for so many years; the nurse who she discovers assisted with the failed abortion that also resulted in the death of a twin brother she never knew she had; and, of course, her birth mother, now a successful lawyer, wife and mother who wants to forget the past and the children she so violently rejected.
In each of our readings from Sept. 30, those who would call themselves "good" confront an enemy. First, there is Moses. Moses, in leading the people of Israel through the desert, realizes that he cannot lead the people alone. He cries out to the Lord for help, and the Lord chooses 72 elders among the people to assist Moses in his work. Seventy of the men obediently answer Moses' request to come to the meeting tent outside the camp to receive the Spirit; two of the men, Eldad and Medad, defy Moses' authority and stay behind. Surprisingly, all 72 men receive the Spirit of prophesy, even those who had disobeyed. Joshua, Moses' loyal aide, is furious! Despite the fact that Eldad and Medad have received the Spirit, Joshua wants to exclude them from the community. But Moses reminds Joshua that, despite the insult inflicted on Moses and Joshua, what the Lord has given cannot be taken away.
In the Gospel, a similar rivalry has developed between Jesus' apostles and some other disciples. John, whom we normally think about as the nice guy who sat next to Jesus at the Last Supper and the only one who followed Him all the way to the Cross, speaks for the other apostles in complaining about someone who is teaching and healing in Jesus' name but who is not in their group. We can probably assume that, because they were separated from Jesus in some way, there was something "imperfect" about their ministry, that what they were doing did not perfect align with the mission of Jesus. And, yet, Jesus tells John to be tolerant of those who were outside of their group. Prior to this, as you may remember from the previous week's Gospel, Jesus taught His disciples that to follow Him faithfully demanded that they be the servant of everyone. He used the example of a child, the least important member of Jewish society, to show that each person, no matter what their standing, is important in the mission of the Gospel. He makes it clear today that these "little ones" were not merely children, but included those who were not among the most holy and faithful disciples. The "little ones" would include sinners, perhaps even the greatest sinners. Jesus forgives not only those who disagree with Him, but those who brutally torture and kill Him! To show a sinner anything other than love would serve only to root them more firmly in their sin. Their mission was to get everyone to heaven, no matter who they were and how difficult it was to accomplish.
When St. James speaks to the early Christians, he admonishes them for creating a different kind of enemy – one who forces them to compromise their material well-being. James is fierce in his criticism of those who accumulate wealth, who have so much clothing that some of it is eaten by moths, those who collect money and precious metal so that some of it has corroded away. And who are their enemies? The workers in the field, whom they pay an inadequate wage, cry out in hunger, while the landowners' wealth only increases. The "little ones" of their community are the poor, and by not providing for them, those who consider themselves blessed will find their riches worthless in the eyes of the Lord.
October is Respect Life Month, a time when we pray for an end to all attacks on human life, from conception to natural death. Very often, that effort is focused on abortion, no doubt an unthinkable evil and the "holocaust" of our generation. In fact, about 25 percent of children conceived in the U.S. since 1973 have been aborted. But the pro-life fight cannot end there! The film "October Baby" certainly begins with the tremendous violence abortion does to our society, beginning with the unborn children rejected by their own parents and the selfish attitudes it engenders in our society. But Hannah, the young woman who survived the abortion, meets and confronts those who tried to kill her. Amazingly, she finds it in her heart not only to not hate them, but to forgive them. She forgives the nurse who had a hand in her brother's death, whose soul cries out in pain even many years later. And she forgives her mother who wanted her dead, and who refuses to meet her, and who is too proud to ask for forgiveness. By forgiving them, Hannah loves them – regardless of whether they will accept her love. By forgiving them, she refuses to make another human being her enemy. By forgiving them, she offers them the possibility of redemption as a child of God.
Abortion must end in our nation, to be sure. But we must also stop making enemies of others – no matter what crime they have committed, what ways we might disagree with them, or what they may take from us. Every person deserves the chance at redemption, and as Christians we must help to give them that chance. To do otherwise is sinful. To do otherwise is to participate in the death of another. For what God wants to give, we must never try to take away.
Father Patrick Hoare is pastor of St. John Neumann Church in Charlotte.