Robert Gallagher: A tale of two conventions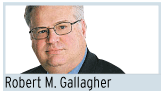 On Sept. 22 I had the privilege of joining approximately 12,000 fellow Catholics for the Diocese of Charlotte's annual Eucharistic Congress. The day began with a Eucharistic Procession. Hundreds participated in the procession and thousands more lined the streets and humbly knelt as the Blessed Sacrament was carried solemnly through uptown Charlotte.
As I awaited the completion of the long Eucharistic Procession, I was struck by the fact that less than three weeks earlier another group of individuals, representing a very different organization with very different beliefs and objectives, met in this same city, just a short walk away.
In the homily before Benediction of the Blessed Sacrament, we were encouraged to look beyond our nominal identification as Catholics and our everyday liturgical practices. We were challenged to see Christ in the sick and the poor, to move beyond our comfort zones and" to taste and see the goodness of the Lord." We were challenged to live for Christ instead of ourselves. And we were reminded that our happiness is found only in developing an intimate, deep and transforming relationship with Christ, who awaits our response. We were encouraged to follow Jesus.
Less than three weeks earlier, another organization had gathered here, purporting to represent the poor and the sick. Yet in their platform all mention of God was deleted. Later the attendees were asked to amend their platform with a voice vote. When the convention chairman ruled that references to God would be restored, he was met with a loud chorus of boos.
As I listened to the inspirational talks and sacred music at the Eucharistic Congress, I could not help but contrast this prayerful, uplifting and wholesome environment with that of the earlier convention. At their gathering, abortion on demand was touted as a kind of sacrament. Speaker after speaker affirmed the right of a mother to take the life of her pre-born child. Nominal Catholics won thundering applause for decrying the Church's consistent and ancient prohibition against such killing.
How different was the Eucharistic Congress. Here, in contrast to enthusiasm for abortion and sterile same-sex "marriage," was a celebration of life and family. Young and old alike worshipped God side by side. Strollers were plentiful, teeming with life and hope for the future. True diversity was on display as individuals representing almost every continent, every race, and speaking several languages joyfully became one family under God as we offered praise to our Maker.
On Saturday evening at Mass we were reminded that our country is in need of God. We were urged to stand firm in fighting to protect the most vulnerable among us, the pre-born babies who are so routinely killed in their mother's wombs. We were reminded that marriage is between one man and one woman, and that religious liberty, our most cherished freedom, is under assault. We were encouraged to follow Jesus.
As I listened to the inspiring homily, I could not help but think that only a few short days before another organization had gathered here to praise a man who voted multiple times to allow babies who survived a botched abortion to be tossed aside to die. They praised a man who has pushed same-sex "marriage" as being tolerant and enlightened.
And yet, this man has demonstrated a complete lack of tolerance for those who refuse to abandon their deeply-held moral and religious beliefs. He forces Catholic schools, charities and business owners to join him in funding contraception and abortion-inducing drugs. He promotes same-sex "marriage" as wholesome and moral and ridicules those who cling to the Holy Bible as their guide in life. This is the man who was praised and honored in Charlotte in early September. This is the man once again nominated by his party to lead our country. This is the man those gathered were encouraged to follow, the man whose beliefs they would enshrine in law throughout our land.
On Sept. 22 thousands gathered in that same place to fall on their knees and worship Christ in the Holy Eucharist. They confessed their sins because they realize there is still such a thing as sin. They inspired one another to take the love of Jesus to the world. And they prepared themselves to propose the truths of His Church, even to those individuals so full of pride that they dared to boo the very name of God.
What a difference a few days can make!
Robert M. Gallagher is publisher of Saint Benedict Press LLC in Charlotte.