Joseph Bruck: True freedom comes from doing God's will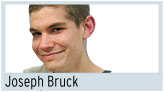 What is freedom? Unfortunately, we live in an age where this concept is commonly attacked and misunderstood. In the light of natural law and Christian revelation, a proper definition will help us to defend our freedoms even as they are trampled underfoot.
According to Blessed John Paul II, "Freedom consists not in doing what we like, but in having the right to do what we ought." Think about that. In the United States government today, with the recently passed – and unjust – HHS mandate, the uniquely human gift of freedom is bartered for a kind of corrupt power: the power to do whatever we like, whenever we like.
Yet as our holy Mother the Church shows, this is not real liberty at all. The Catechism of the Catholic Church sums up the concept of freedom very well: "The more one does what is good, the freer one becomes. There is no true freedom except in the service of what is good and just. The choice to disobey and do evil is an abuse of freedom and leads to 'the slavery of sin.'" (CCC 1733).
The Church also teaches that, as rational beings made in God's image, we have free will and are therefore morally responsible for our actions – both good and bad. Therefore, for Christians and for all people of good will, true freedom must be protected to ensure peace, justice and virtue in our world. Even so, we live in a time when, for many people, the word "freedom" means something like "the unlimited right to do whatever I want." A consequence of sin, this distorted view has led to many modern evils, such as abortion, contraception and homosexual "marriage." It is our duty to uphold that freedom which actually makes one free, and not be slaves to passion or depravity.
With the aid of our Blessed Mother, let us go forth to continue fighting for all true freedom, especially the right to religious liberty as guaranteed by our Constitution. Though the times may be dark, it is only a greater opportunity for selfless love and justice to shine through the darkness. May God bless America, now and always!
Joseph Bruck is a parishioner of St. Patrick Cathedral in Charlotte.