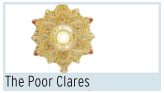 One of the most beautiful privileges Our Lord has bestowed upon women is the ability to carry within themselves another human person – and through their personhood, another immortal soul. Through biological motherhood, a woman literally houses within the shelter of her body the delicately forming masterpiece of God's creation – a human being endowed directly by the Creator with an immortal soul. One may think here of the beautiful title of Our Lady as "Ark Of the Covenant," referring to her maternity of the very Son of God. Every Catholic mother has a small share in this grace as she bears within herself a baby with the potential to be washed in the saving graces of baptism and destined for eternal life as a child of God.
Indeed, the vocation of motherhood entails a call to the greatest intimacy with the work of the Eternal Father as He penetrates the confines of the womb with His creative activity.
A woman's body is designed to surround this budding new life with protective and nourishing care as he or she grows and develops, preparing to enter the world and exist independently. But in no less way, the woman's soul is so equipped as well.
St. Teresa Benedicta of the Cross, also known as Edith Stein, strove in her writings to encapsulate the gifts and ideals of woman's soul into seven spiritual qualities. Stein said the soul of woman was created to be expansive, quiet, warm, clear, self-contained, empty of itself and mistress of itself. This week, I would like to focus on just the first of these qualities.
Stein briefly outlines this quality in her lecture "Principles of Women's Education": "The soul of woman must therefore be expansive and open to all human beings."
True womanhood, an authentic femininity, includes an inherent drawing toward the cherishing of all things human. This is why women's principal interest is directed towards other people and to the relationships between them. Women are less inclined to the material and the abstract than men. It is much easier for a woman to give her life for a person, rather than an ideal or principle. By their very nature, women are deeply concerned with the needs of others, and have a powerful desire to fulfill the longings of the human heart for love and companionship. The feminine nature is graced with a keen intuition of all that concerns the personal, and the ability to help others become the person they are intended to be.
We see examples of this quality of expansiveness in the lives of saintly women such as Blessed Teresa of Calcutta. This unforgettable icon of Christian charity was a woman who seemed to have a heart as big as the universe. She was a mother to everyone she met, and she thirsted to bring healing comfort to both the bodies and souls of the thousands of needy she encountered throughout her life. Every human person – no matter how rejected, how filthy or diseased in body they may have been – had a place in her embrace.
To be truly expansive of heart as Blessed Teresa was, a woman must cultivate the practice of seeking for the often-hidden treasure found in each person's soul. Sometimes, one must dig deeply to discover this, but as Blessed Teresa knew well, it is human souls who make up the Kingdom of God. And a woman's soul has been made to go out of itself for others and cherish these precious jewels. It is in this loving search for others that a woman finds and makes the burdens of others her own.
Here we again see the vocation of the supporting role of women as companions. A woman should not be able to encounter the sufferings and trials of others without taking them, literally, to heart. She should long to care for others and to alleviate their pain.
For this reason, professions such as nursing, teaching, social work, and even secretarial work are deeply satisfying to a woman's heart. She will bloom best in an atmosphere where she may directly aid and assist people in their concrete needs. Why? Because women are equipped for a uniquely ministering type of love. What does this mean? Stein has the explanation for us: "It is an assistance lent to all creatures in order to lead them towards perfection."
This requires a proper discipline, however, and self-control. With each quality there is an accompanying opposite extreme to which one is more easily prey. Women can very easily become too caught up in others and their needs, or become merely curious about people's lives and situations. They may speculate too much on the keen perceptions they have of people's emotions and needs and get too caught up in reading into things. It is very easy for women to want to fix the problems they see in other's lives, and to lose their peace when confronted with difficult circumstances.
Because of her intense desire and need for human love, it is imperative for a woman to cultivate the most ultimate of relationships – with the Person of Jesus Christ. Again, it is to a person that a woman will give her heart and spend her life in selfless dedication. It is essential, therefore, that women strive to develop a strong and intimate life of prayer with Our Lord, the Word made Flesh. A Eucharist-centered life will ground the feminine nature in the intensely personal love so longed for.
It is to Our Savior's feet that women must bring the souls whom their hearts long to help. It is in prayerful discernment that they can ask the Lord what it is that He wishes of them, in what way He wills them to act in the lives of others. Through a life of daily prayer, this inborn desire and gift will be safely formed and used as a tool of God's grace in the world.
Sister Marie Thérèse of the Divine Child Jesus is professed with the Poor Clare Nuns of Perpetual Adoration St. Joseph Monastery in Charlotte. Learn more about the Poor Clares at www.stjosephmonastery.com. This is the second in a five-part series exploring Edith Stein's views on womanhood. In the next edition: " Clear Brilliance."